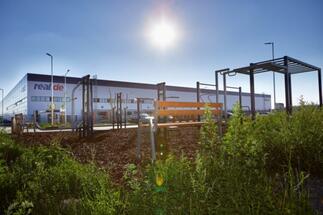 Panattoni has already built more than 5.7 million square meters of green-certified industrial space in Europe. It is thus in the first place in the ranking of sustainable industrial buildings. Among the latest projects in neighboring Poland is, for example, Panattoni Park Sosnowiec I with the first Polish BREEAM New Construction certificate at the Excellent Excellent 'level, which thus ranks alongside a number of equally certified buildings in the Czech Republic and Slovakia.
In Slovakia, it aspires to certification in the level, Excellent 'just completed building with an area of ​​35,400 m2 in Panattoni Park Košice Airport. In the neighboring Czech Republic, there is one of the most sustainable and environmentally friendly industrial buildings in the world in Panattoni Park Cheb South, which boasts BREEAM New Construction certification at the level, Outstanding '. Kaufland eCommerce's distribution center boasts a record 90.68% score in the final BREEAM rating.
With its "Go Earthwise with Panattoni" sustainable development concept, Panattoni sets environmental trends in the industrial construction sector. All newly built halls must meet the BREEAM New Construction certification at the level of "Excellent" and will have to achieve a rating of at least 70% when assessing individual aspects in ten different categories.
"I am pleased that thanks to our active steps and the promotion of international BREEAM certification, this approach has become the standard today. BREEAM New Construction certification follows a number of criteria, according to which environmental friendliness is subsequently assessed. This year, Panattoni was the first industrial real estate builder to set the minimum rating level, Excellent 'for all newly built buildings not only in the Czech Republic and Slovakia, but throughout Europe," said Pavel Sovička, Panattoni's General Manager for the Czech Republic and Slovakia.
Due to the fact that most of Panattoni's projects remain under management (property management), BREEAM New Construction certification is just beginning. For its tenants, Panattoni is preparing a CO2 compensation mechanism for building footprints. As a novelty, it introduces the possibility of supplying the calculation of the CO2 footprint of the building as well as the recommendation of a suitable CO2e compensation for each year of operation.
"We are fully aware of the social and environmental responsibility associated with the operation of buildings, so we follow the sustainable procedures for BREEAM certification in their management. In practice, this is reflected in optimized maintenance, purchase of goods and services, the use of energy-saving technological units and energy management. For this reason, we have adopted an internal directive regulating a sustainable approach based on the BREEAM principles, which govern the property management department, "adds Erik Ivaničko, director of Panattoni Slovakia.
In Panattoni, increasing the environmental friendliness of buildings goes hand in hand with increasing the comfort of their users. This includes not only better facilities for the disabled, but also, for example, that all office spaces are designed with the best acoustics and daylight access in mind, and will also undergo a thorough analysis of thermal comfort.
For each new Panattoni project, an air quality plan is also developed, based on which a mechanical ventilation system is installed that minimizes the concentration and recirculation of pollutants indoors. Panattoni further expands the range of environmental practices throughout the implementation process of its projects, thus supporting a number of benefits resulting from compliance with EDP (Environmental Product Declaration) standards. The analysis of the building's life cycle before the start of construction also significantly reduces emissions.
At the same time, Panattoni is raising the standards of drinking water-saving systems - either through the use of leak detection mechanisms, watertight fittings or rainwater tanks, but also by establishing a higher proportion of green areas with local vegetation or flower meadows that do not require frequent irrigation. . Another novelty is the location of beehives directly in the area of ​​industrial parks, where, thanks to the planting of greenery, there are enough flowers needed to produce quality honey.