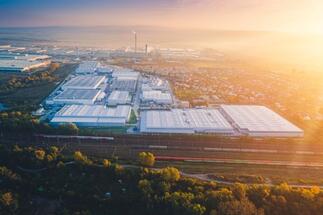 CTP is one of the five best European companies in the field of logistics real estate and, based on gross leasable area, the largest developer and owner of logistics real estate in Central and Eastern Europe. After 22 years of many business successes based on organic and strong profit growth, the company is ready for the next step in its development.
Following a key change in the company's financing strategy, CTP entered the international bond markets in 2020. CTP successfully issued its debut Green Bond worth 650 million euros in October 2020, followed by two more green bonds on attractive terms, which increased the total volume of issues to more than 1.5 billion euros. Following a successful entry into investment grade bond markets, CTP now plans to enter the equity markets to finance its further growth.
The reason for the planned offer is to enable CTP to accelerate its growth by financing the company's development projects and construction activities, selectively acquiring real estate, and repaying debts. The offer will be submitted to institutional investors and is expected to include a primary offering of newly issued shares, which will increase gross returns in the range of EUR 800 million to EUR 1 billion and the possibility of over-allotment of secondary shares. The offer is expected to be submitted in the coming weeks, depending on market conditions and other relevant factors.
CTP has a leading and growing market share in Slovakia, the Czech Republic, Romania, and Hungary. It is the fastest-growing logistics real estate developer in Serbia and is expanding in Austria, Poland, and Bulgaria.
Remon Vos, Founder and CEO of CTP, adds: "When I founded CTP, I was thrilled with the entrepreneurial spirit and ambitious atmosphere in the Central and Eastern European region. We launched the first project near Prague and today, after 22 years, we are the largest owner and developer of logistics real estate in Central and Eastern Europe. This region benefits greatly from favorable macro-trends that lead to structural growth.
The prospects for logistics properties around the world are very attractive with several positive factors accelerated by the impact of COVID-19. The growth of online commerce is leading to a long-term big change in the demand for logistics services and premises. We have significantly grown our market share in the region and expanded into new markets.
For years, our mission has remained to build, own and operate the most sustainable and high-quality logistics park network in Europe. Through our vertically integrated business model, we have not only been able to generate an excellent return of over 10% of development costs, but we still remain the long-term owner of our properties. Our assets are 100% certified by BREEAM, equipped to use solar energy, and by the end of this year, our operations will be carbon neutral.
We have the ambition to have a positive impact on the communities in which we operate through many initiatives, such as launching a zero-waste initiative or supporting afforestation. Over the past year, we have increased the speed of innovation and worked hard to keep our company moving forward rapidly. Thanks to a significantly strengthened organization, we are in a good position for further growth.
After 22 years of private ownership, we are now ready for the next phase of our development. We believe that the combination of scope, experience, and strong growth prospects makes CTP an attractive investment opportunity. In Europe, we have a strong platform for further growth and are committed to ensuring continuous sustainable growth operating in the most attractive real estate subsegment. By joining Euronext Amsterdam, we can build on the expansion we have achieved through enlargement and offer access to a wider range of capital-raising opportunities."
As Richard Wilkinson, CTP's Chief Financial Officer, points out, they made significant progress in 2020: they saw further growth in terms of portfolio size, rental income, and profit. They also significantly increased their market share in the region and expanded their operations in Central and Eastern Europe by expanding into Bulgaria and Austria. To meet ambitious growth goals, strengthen the organization, expand staff and optimize the corporate structure. In addition, they have received recognition from international capital markets: they have successfully achieved two investment-grade ratings and the bonds have performed very well since issuance.
"We operate in an attractive sector with high tenant loyalty and increasing satisfaction. Our business profile looks great and we are in a good position to take advantage of the favorable market conditions and provide the solutions that the markets are looking for. Our Parkmakers' vision fits seamlessly into the drivers of growth in our markets: our 10 largest parks now account for 58% of the total gross leasable area and are positioned to serve capital cities and strategic logistics hubs. Looking to the future, we remain ambitious: from March 2021, we will have 1,000,000 square meters under construction, of which 62% are pre-leased and we are well on our way to achieving our goal 10-23: to have more than 10 million meters by 2023. square gross leasable area."
Source:// Systémy logistiky