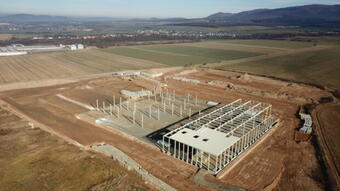 The construction of the hall began in May of this year, and is currently in an advanced stage. The investor assumes that he will be a tenant at the end of this year. It will meet several criteria corresponding to the sustainability and efficient operation of the building.
CTP also aims for the BREEAM Excellent certificate in this case, photovoltaic panels will be installed on the roof of the hall. This green energy will be available directly to tenants and will be consumed directly in CTPark.
"It was only a matter of time before interest in the east of Slovakia would grow on the part of the market and foreign investors as well. The transfer of production to the area of Central Europe and the logistics adapted to it increased demand, and we are glad that we evaluated this development at the right time," confirms Ján Rakovský, Senior Business Developer CTP for Slovakia. 200,000 square meters of new leasable space will be created in CTPark Prešov North.
Eastern Slovakia is a locality with a strong industrial tradition, it has enough qualified and talented workforce. It is a strategic location, close to the first class road, in the north of Prešov, which is the third largest city in Slovakia. The advantage is very good accessibility from the districts of Bardejov and Svidník, where unemployment reaches more than 11%.
"We perceive this fact as an excellent opportunity for our future tenants, especially from the sector of manufacturing companies, whose operation is based mainly on human resources," says Ján Rakovský.
The transport infrastructure supported by state strategic investments is currently progressing around Prešov and Košice. An obvious benefit and competitive advantage of CTPark Prešov North is the proximity of the future R4 expressway, which should be located only approximately 2 km from the entrance to the park.
CTPark Prešov North is not the first CTP investment in eastern Slovakia. In Prešov itself, it also operates CTPark Prešov South, and in nearby Košice, it has more than 30 hectares of land for industrial use.