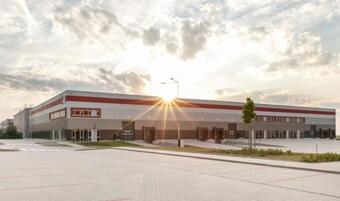 In 2020, P3 closed two large acquisitions, Maximus and Matrix, with a total value of approximately 1.5 million m2 of gross leasable area. During 2020, P3's portfolio increased by about 48%, to almost 6.5 million m2 of gross leasable area.
"Throughout the pandemic, the logistics industry has provided and supported important positions in the company," said Peter Jánoši, CEO of P3 Logistic Parks. He adds, "In these unusual times, P3 is in an excellent position to support this essential infrastructure. We continue to strive to identify acquisition opportunities and develop them, seeking partnerships with our clients and communities to be stronger and better prepared in the future."
Development activity remains one of the key drivers of growth for P3. In the previous 12 months, P3 concluded ~600,000 m2 of new development for new and returning customers, such as Amazon, Mercedes-Benz, TEDi, PepsiCo, DHL and InPost.
"We have continued to deliver on our development promises to our customers. It's true that the pandemic has not always made it easy, but we continue to communicate with our customers and find the best way forward together," states David Marquina, co-CDO.
"Development project highlights of the year include the hand-over of the 190,000 m2 G+3 warehouse for Amazon in Castelguglielmo, northern Italy," states Jean-Luc Saporito, P3 co-CDO. "We also commenced construction on a 98,000 m2 warehouse in the Echt region of the Netherlands, which is targeting the highest level of BREEAM certification "Outstanding". We continue to invest into brownfields, having announced the acquisition of a 40 hectare plot of land in central Ostrava, the Czech Republic's 3rd largest city."
Following global trends, P3's portfolio composition continued to see a shift toward eCommerce and retail operators. As of the 31st December 2020, ~30% of P3's portfolio was engaged in retail and eCommerce activity. This is directly in line with P3's strategy to develop warehouse properties in strategic locations near population centres, of which some P3 classifies as Urban Logistics.
"We have a multi-faceted investment strategy to grow our market share in the pan-European market through both development and acquisition, responding to the current needs of the logistics industry," states Otis Spencer, P3 CIO. "With the support of our owner, we are actively looking for further investment deals to strengthen our position as one of Europe's leading developers and managers of logistics properties."
In total, P3 has grown by 30 new employees in Europe to a total of 190 employees in 2020. In Germany alone, the team doubled from 16 to 32 employees. In the coming months, P3 also wants to expand its team of experts in a targeted manner in order to drive development, land acquisition and new business opportunities.
P3 Logistic Parks in Slovakia
P3 Logistic Parks continued to expand its logistics real estate portfolio in Slovakia as well. As part of the Maximus acquisition, the Slovak branch of P3 Logistic Parks covers the development of acquired properties in Slovakia and Austria. The first significant investment after the acquisition was the May expansion and expansion of the logistics park in Bruck an der Leitha for the client WLS - Weindel Logistik Service. It brought the park in Senec to the Slovak portfolio again.
"By acquiring Maximus and acquiring premises in Senec, we have fulfilled our ambitions to strengthen our market position and become a leader in the logistics and industrial real estate market in Slovakia," says Peter Jánoši, CEO of P3 Logistic Parks.
The company P3 Logistic Parks continued its activities in the east of Slovakia, where the developer started the construction of the P3 Košice park in Nová Polhora in 2019. It is also one of the newest logistics centers in the P3 Logistic Parks portfolio and the first center in eastern Slovakia.
"Completion of the first phase of the construction of the P3 Košice park and almost full occupancy within our Slovak portfolio motivates us to further growth and active preparation of other locations for immediate construction. At the same time, we count on reserves for land and vacant areas so that we maintain continuity in satisfying the future requirements of our clients. In the P3 Košice park, we are ready to start the immediate construction of another two halls with a total area of ​​approximately 70,000 m2," concludes Peter Jánoši.
Source:// Systémy logistiky