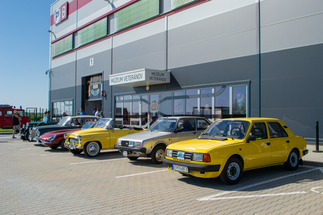 The company PALK moved into the P3 Bratislava Airport park back in March 2022, when it opened a distribution center for the Selaví online store and later also the Selaví wine shop, in which, on a total area of 800 m², it offers, in addition to exclusive world brands, Slovak wines, including a domestic brand VIAJUR, belonging to the ZAR brand family. In addition to wines, she also expanded production by fruit
Miro Balla, commercial director of the distribution company Selaví, says: "It is already clear from the name Selaví that the goal is to enjoy life with all the pleasant moments that belong to it, while tasting new tastes and trying new things. We bring both the wine shop and the museum of veterans to the general public so that they can see what it's like to be in the shoes of a true bon vivant and we bring an experience of flavors combined with a touch of history. The concept as a whole requires large industrial spaces where we can exhibit historic vehicles and simultaneously store goods from the Selaví distribution company. We are pleased that we managed to find such premises in the city logistics center P3 Bratislava Airport, which is in close proximity to the capital, accessible to the general public and at the same time ready to respond flexibly to our needs in the event of further expansion."
Peter Jánoši, executive director of P3 Logistic Parks in the Czech Republic and Slovakia adds: "The combination of the idea of a wine shop and a museum of historic vehicles is an accurate demonstration that logistics parks do not have to be just an industrial place, but can also be used to revive cultural and social life in city. This ultimately confirms the interest of the general public and the number of visitors to the museum from the first day of its opening."
Oldtimer Gallery - Museum of veterans is open year-round from Wednesday to Sunday from 10:00 a.m. to 6:00 p.m.
P3 Bratislava Airport is located on the city bypass, near the D4 exit and the D1 highway and only one kilometer from the Bratislava airport. It offers up to 91,000 m2 of modern commercial space, with the possibility of custom-built more than 6,000 m2 of office space. With its space and equipment, it is suitable for logistics, retail, e-commerce, light manufacturing and showrooms. The city-business park P3 Bratislava Airport has the environmental certification BREEAM Very Good.
bu Mozart coffee, Pálffy Brauerei craft beer, spirits, honey and lavender products, which visitors to the wine shop and veterans museum can taste and buy on site.