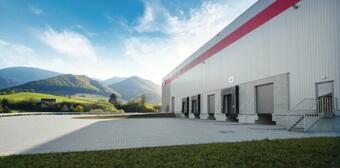 The non-profit organization Administrator of the deposit system, which creates, finances and coordinates the operation of the collection system for plastic bottles and cans from beverages, which supports the circular economy, rents 2,000 m2 of warehouse space in the P3 Žilina park.
The intermediate warehouse in the P3 Žilina park is one of five similar warehouses in Slovakia that the Backup System Administrator chose as a location for its operation.
"We are trying to find the most efficient logistics solutions and optimize our transport routes in order to reduce carbon emissions. The intermediate warehouse in the P3 Žilina park fits perfectly into the strategy of efficiently deploying our locations when collecting reserve materials from collection points, thereby ensuring greater service flexibility during the high season," says Ján Franek, director of logistics from the non-profit organization Správaca System Administrator.
"We realize that as a developer of logistics real estate, we stand at the crossroads of two main sources of greenhouse gas emissions - construction and transport. Therefore, we see our role as bringing solutions in cooperation with our tenants that help eliminate negative impacts," adds Ján Rybárik, Head of Leasing at P3 in Slovakia.
Currently, 15 tons of material pass through the intermediate warehouse in the P3 Žilina park every day, and according to the Administrator of the backup system, this number will increase even more in the summer months. He weighs the collected packaging into the intermediate warehouse from the nearest collection points, then checks, sums up and compacts the material here. In this way, the organization is able to transport a larger amount of packaging with fewer trips to the sorting center and then to the recycler, resulting in more efficient transportation and a reduction in the carbon footprint.
In addition to its strategic location at the intersection of the D1 highway, thanks to which the Backup Systems Manager can effectively cover a wide network of collection points in this location, P3 Logistic Parks offers its tenant the benefits of a first-class property with BREEAM 'Very Good' certification, equipped with a modern heating and ventilation system, increased thermal roof insulation and energy-saving intelligent LED lighting.