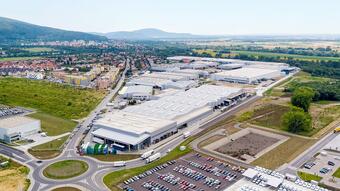 According to Hana Mayerová from the company's press department, it will take over the countries that are currently supplied from the distribution center in Enns, Austria.
"These are Austria, Romania, Serbia, Slovenia and Croatia," Mayer said. Slovakia, the Czech Republic, Poland and Hungary will continue to supply a functioning distribution center in Novo Mesto nad Váhom, which currently has 153 employees. The company wants to hire about 250 more people to Trnava, and according to Mayer, it is currently concentrating on recruiting them.
The logistics center will be located in the CT park near Trnava on an area of ​​30,000 m2. C&A announced its original construction plan as early as 2019, but the opening was postponed. By opening a new center, modernizing information technology, logistics and distribution, the company responds to new customer needs.
The goal is a seamless coordination of Internet shopping channels and shopping experience in stone branches, as well as a significant acceleration of delivery of goods to branches.