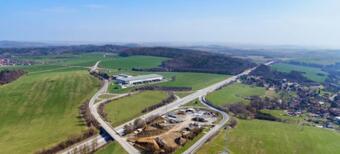 Building 1 is partially leased in advance by Zeppelin CZ. It is a dealer of Caterpillar construction, agricultural and mining machines, for which it also provides service and supplies of spare parts. Zeppelin CZ will now benefit from the strategic location of the park on the D1 motorway, which connects the two largest Czech cities - Prague and Brno.
The 4,123 square meters of first-class logistics space, designed to meet the needs of Zeppelin CZ, will make up about half of the first distribution center with a total area of ​​8,800 square meters. In the park near Ostředek, two more buildings are planned on plots with areas of 21,000 and 13,000 square meters. These plots are ready for immediate construction.
In addition to the great location of the park - only 30 minutes drive from Prague - the company can provide customers of Prologis Park Prague D1 Ostředek with the highest standards of sustainable development. All buildings in the park will be equipped with LED lighting and will have the possibility of solar water heating in office spaces. Other sustainable solutions will include intelligent systems for measuring consumption and more efficient use of energy, which are already standard in our properties. The walls and roof will have stronger insulation. Like all new buildings from Prologis, the one for Zeppelin CZ will be accredited according to the BREEAM methodology.
"The start of construction at Prologis Park Prague D1 Ostředek is an exceptional moment for our entire team," said Anna Jůzová, Prologis' rental and customer experience manager. "In the new development, the first half of which is leased by Zeppelin CZ and the second part of which is available to potential applicants for new premises, we will provide tailor-made logistics facilities for the Czech and international markets. We are looking forward to Zeppelin CZ moving into new premises. Our customer experience experts will be immediately available to the customer to take care of his satisfaction. "
"The new premises in Prologis Park Prague D1 Ostředek will enable us, together with online orders, to speed up the entire process of delivering spare parts to clients in the Czech Republic, Slovakia and Austria," said Stanislav Chládek, CEO of Zeppelin CZ. "We are excited to be the first customer in this brand new park, which is undoubtedly located in one of the most sought-after places on the Czech logistics map."
Thanks to close cooperation with customers, Prologis is able to ensure that the building brings real and tangible benefits to its users. Together with the emphasis on sustainability and quality of life for employees through the PARKlifeTM initiative, our approach to customers focuses on providing services beyond the four walls and roof of logistics buildings.
In the new Prologis Park Prague D1 Ostředek, the supporting pillars were erected and Zeppelin CZ can thus watch as its new distribution center gradually acquires its final form. "We are looking forward to becoming a new prosperous community in Ostředek, where our customers' business thrives. Whether it's building partnerships, laying foundations in completely new locations or developing existing spaces, satisfaction is… "