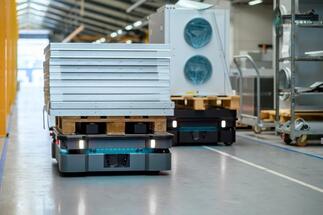 "Customers testing AMR robots at their facilities have found that they need to transport heavier loads and require an ever-increasing level of reliability, safety and quality to succeed in large fleets in production," said Søren E. Nielsen, President of Mobile Industrial Robots. "Our new industrial and robust robots meet these requirements, making it easy to integrate directly with companies' workflows."
The first AMR robots with IP52 certification tolerating typical challenges of industrial environments
The industrial and robust MiR600 and MiR1350 robots are the first autonomous mobile robots on the market with Ingress Protection 52 certification, which in practice means that their components are protected and can come into contact with dust and water droplets.
"Due to the fact that AMR robots are increasingly integrated into heavy operations, their possible failures cannot be tolerated," says S. Nielsen. "Our new AMR robots are industrial grade and designed for long life and easy service, thanks to components and cables that are certified for industrial environments and are easily accessible."
The new AMR robots optimize the entire logistics - at the entrance, in production and during distribution
The larger MiR600 and MiR1350 robots are ideal for the autonomous transport of heavy loads of materials and goods:
• on loading ramps
• in production and assembly areas
• in warehouses
• in the material supply sectors
Like other AMR robots from MiR (MiR100, MiR200, MiR250, MiR500 and MiR1000), the MiR600 and MiR1350 navigate seamlessly and safely between people and other transport devices in a dynamic environment. Sensors, 3D cameras and the latest laser scanning technologies provide a 360-degree overview for accurate and safe navigation and operation. The new AMR robots are designed to meet the latest safety standards in the field, e.g. ISO 3691-4.
"Many companies are now integrating our mobile robots as an alternative to manned forklift trucks, which can be hazardous to traffic and cause accidents," said S. Nielsen. "Simplified transportation via AMR robots allows employees to perform more productive activities and support production processes, which increases workplace safety."
Out-of-box solution to meet the demand for scalability and adaptability
Logistics solutions for the future must fit seamlessly into current operational processes and adapt flexibly to new workflows and environments. AMR robots from MiR are highly flexible and can be fitted with various add-on modules according to the specific customer application.
While many companies require adaptable robotic platforms, others are interested in ready-made out-of-box solutions that can be used for different types of workflows or in different spaces. For easier implementation of the MiR600 and MiR1350, the MiR offers a range of superstructure lifts. These modules allow AMR robots to load and unload pallets and trucks and ensure easy integration and scalability throughout the production chain.