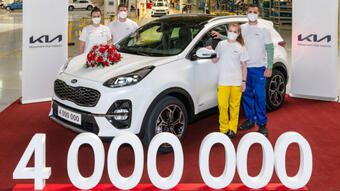 Kia Slovakia exceeded the million production line in 2012 and added another million every three years. These days, a total of four million vehicles have already come together from production lines capable of producing up to eight different models. All models from the Ceed family are produced here - Ceed, Ceed GT, Ceed Sportswagon, ProCeed, XCeed as well as the last three generations of the Sportage model.
"Only thanks to the efforts of our production operators, all employees and suppliers have we managed to reach an incredible milestone in our history. Kia Slovakia has long been a symbol of excellent quality, efficiency, safety and modern technology, which confirms the success of our models in Europe, "thanked Kia Slovakia employees Seok-Bong Kim, President and CEO of Kia Slovakia
Kia Slovakia is one of the major manufacturers and exporters in Slovakia, employing 3,700 people helped by modern robots. A recent investment of € 70 million makes it possible to manufacture and install new petrol engines in response to changing market demands. Kia produces very efficient petrol engines complemented by a 1.6-liter diesel "Smartstream" engine.
Source: // Logistics systems