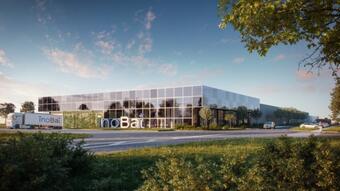 InoBat Auto is one of the few European companies operating in the field of battery business. It differs from its competitors, among other things, in the way it manufactures its batteries. It wants to produce to measure for each customer according to his specific needs, thus gaining higher added value than the traditional catalog approach of the competition.
This also attracted the attention of Ideanomics Mobility, an American specialist for electric vehicle manufacturers, listed on the New York NASDAQ, who confirmed the investment in the Slovak InoBat. The investment will go primarily to the research and development center and the pilot battery line InoBat in Voderady. The joint activities also want to focus on the design, development, production and distribution of batteries in the US market. The aim of the cooperation is to accelerate the growth of Ideanomics subsidiaries and offer a manufacturing alternative, especially for customers based in the USA and Europe.
"We are very much looking forward to working with the InoBat team. Strategic investments will help us meet our commitment to making electric cars a natural successor to traditional transport. Thanks to recent investments by Rio Tinto and Amara Raja, we believe that InoBat will have access to the precious materials and metals needed to make our batteries in bulk and help reduce supply chain risks, "said Robin Mackie, President of Ideanomics Mobility.
"We were excited to join Ideanomics. The partnership will allow us to invest in research into even better batteries for road and off-road electric vehicles and increase our capacity and capabilities in the US e-mobility market, "explains Marián Boček, CEO of InoBat Auto.
The investments that InoBat has received in recent days in the amount of tens of millions of EUR from the world companies Rio Tinto, Amara Raja or ČEZ in the past will be used for the development of battery research and development, which will take place in the center in Voderady.
"Our goal to increase the global competitiveness of the European market in this area and to provide the automotive industry with long-term sustainable solutions is gradually being fulfilled," added Marián Boček. "The results of the prototype of our batteries show better results compared to the compared battery of the Asian manufacturer in terms of energy density, service life, range and recharging."
InoBat is currently developing a battery research and development center and production line in Voderady. The building will have R&D laboratories for research and development, offices and a prototype line for the production of batteries. There will also be ultra-dry areas for batteries and various systems and technologies aimed at protecting the environment, employee health and safety. The center should be completed by the end of 2022.