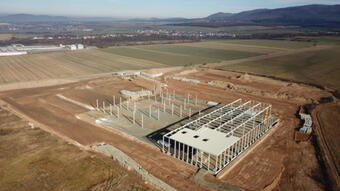 Construction work on CTPark Prešov started in the first stage in September this year. The subject of construction is a hall with a total area of ​​38 thousand m2. "We start with the first hall and the construction of the first 25 thousand m². We can already confirm that we are currently building for two tenants, logistics providers who have signed lease agreements for 11,000 m2, "says Ján Rakovský, Senior Business Developer CTP.
Prešov CTPark is one of the major investments in eastern Slovakia. Its construction is also associated with the creation of new jobs, which will be created by new tenants during the next year. They rely on the industrial tradition in the region, the availability of skilled labor, but also the potential thanks to technical universities. It is these aspects that predetermine CTPark in Prešov for logistics and high-tech production.
Prešov also has a strategic location, which is also recorded in the recently opened section of the D1 Motorway. The western bypass of the city of Prešov at the Petrovany-Záborská exit continues with an excellent motorway connection to Košice (30 km) and the automobile cluster in Žilina / Martin (200 km) with easy access to Poland (70 km). The park is located on the Via Carpatia transit route, which connects the countries of Poland, Lithuania, Hungary, Slovakia, and is therefore also interesting for good accessibility within Central and Eastern Europe.
"We see great potential in this location, as evidenced by the amount of demand and lease achieved before the start of construction. We are currently negotiating with other potential clients, as the premises will be available in the second quarter of next year, "says Ján Rakovský from CTP.
CTP currently has 95,000 m2 under construction in Trnava, Košice and Prešov. All new CTP properties are built to BREEAM "Excellent" and above standards, along with CTP's long-term commitment to sustainability and carbon neutrality. Next year, CTP will start installing photovoltaics on the roofs of its 2 MWp facilities and plans to do so throughout its portfolio, wherever possible.