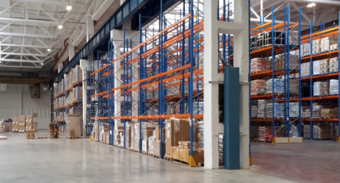 According to him, the crisis has shown that manufacturing companies need flexibility and adaptability in addition to maximum efficiency. However, the ability to adapt to increasingly frequent changes in the market is much more difficult in Slovakia, due to the significantly greater dependence of the economy on the automotive industry, especially its final production, than in neighboring countries. Therefore, according to Euler Hermes' analysis, Slovakia should not return to pre-crisis figures for the gross domestic product (GDP) until the second half of 2022.
However, the pillars of the Slovak economy are small and medium-sized enterprises, which provide employment opportunities for almost 75% of the active workforce in the corporate economy and have a share of more than 50% in gross production and value-added. Their ability to supply products even in times of crisis, and how they can prevent imminent supply disruptions, is therefore extremely important. In this respect, logistics and its ability to respond quickly have an irreplaceable role to play.
"We have been simplifying and accelerating material flows for a long time. The pressure on the speed of transport without unnecessary intermediate storage has been very strong so far. Diversification, such as the use of continental intermediate storage, is now proving to be a better way to keep the economy flowing. In the event of unforeseen events linked to the interruption of the transmission chain, such distribution centers would prevent the economic downturn in entire areas. Thus, the frequency of intercontinental shipments is likely to be reduced and overseas companies will start building logistics centers for Europe, from which they will serve more countries. This is likely to lead to an increase in European international traffic. And, of course, the share of e-commerce will continue to grow. This will also lead to new requirements, such as a specification of the delivery time, the method of communication between the operator and the customer or its final recipient, the method of packaging, or repackaging of goods… This will increase the share of B2C delivery and increase interest in value-added services," explains Marian Vaculčiak.
Geis is ready to take part in these changes. It has the necessary background for this. "Our advantage is that we have built a unified transmission network in the Czech Republic, Slovakia, and Poland. We are very strong in Germany, where we have our own transmission network and we are also a key member of the IDS network. We then work with specific carriers throughout Europe on a long-term basis, so that we can offer stable and reliable services. We are preparing new, customer-friendly products in the field of European land transport, which are based on many years of know-how and will be uniform for the entire Geis Group. We are also making progress in the area of ​​B2C. The demand for these services is growing," adds Marian Vaculčiak.
Geis has the necessary storage capacity and offers logistics as a whole. It prepares and secures logistics projects for customers, starting with complete warehouse logistics with connection to distribution centers through customs clearance to transport services in the area of ​​a pallet, piece, and full-vehicle transport. It also has several large e-shops among its clients, for which it provides comprehensive outsourcing, which means that for them it imports, stores, repacks, consolidates, distributes, or prepares goods for dispatch - all in its own warehouses, which is a great advantage for the client.
There has also been a lot of talks lately about the fact that the pandemic has brought wider use to the home office. Some companies have stayed with this form of work and others are returning to it on a larger scale due to the oncoming second wave. But in logistics it is different.
"Of course, in the first wave of the COVID-19, we introduced, among other measures, a home-office for positions where this was possible. But I must say that as soon as it went, our employees were happy to return to the offices. After all, logistics is about live contact and quick information. So that home-office will not be a common format of work for us in the future either. For most professions in logistics, such as warehouse workers, handling workers, or drivers, this option does not even exist," explains Marian Vaculčiak.
Source:// Systémy logistiky