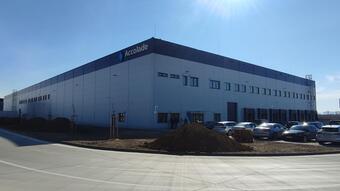 They occupy about 6,300 square meters (m2) of the total hall area of ​​almost 20,000 m2. As Panattoni's director for Slovakia Erik Ivaničko told TASR, the investment in construction is around 17 million euros.
Finish and sell for use
,, In the final, it will have 19,800 m2 of warehouse space. It needs to be completed, completed, approved and sold to clients for use, "he said. He expects the last phase to be completed by the end of this year. Construction at the Excellent level.
The first tenants are the logistics company PKZ Logistics and the company for the production of nutritional supplements GreenPharm. They expect the new premises to optimize warehousing operations, streamline production, and improve hygiene standards and conditions for employees.
There is more and more demand
The first building has 15,000 m2 and is occupied by more than 80 percent. The last vacant spaces are currently being prepared for another client. Ivaničko is convinced that both buildings will be fully occupied.
"The Košice market is still moving further and there is more and more demand. I see another added value in the East Slovakian region, or in a metropolis such as Košice. We want to stay here and we are looking for other opportunities to not only have these two buildings here, but to continue further development, "he added.
According to him, they decided to build a logistics park in this location mainly due to the market dynamics in Eastern Europe, the strategic location of this region, transport connections and manpower.