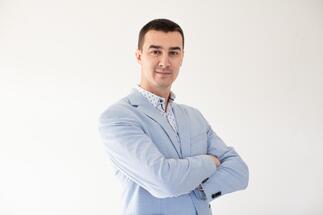 1. Can you introduce your company? What services do you offer? Where do you operate?
NAUT GROUP is one of the market leaders in service outsourcing. Our business stands on the three pillars of RETAIL SERVICES, where we help to improve the service of the modern and traditional market in the form of outsourcing of sales representatives, data collection, POSM management and replenishment of goods. We provide comprehensive tailor-made solutions in the entire field of E-COMMERCE, from architectural design, development of e-shop and product pages, project management to payment, accounting and reporting. LOGISTIK brings personalized solutions to our partners with a guarantee of effective processes and minimization of costs in storage, picking, packing, distribution, management of returns and complaints in the segment of long- and short-term storage or fulfillment. In addition to Slovakia, the company operates in the Czech Republic and Hungary, and we plan to expand to Bulgaria, Romania and other European markets. Last year we went through a rebranding and unified the name under the NAUT GROUP brand in all countries.
2. How would you evaluate the development of the logistics and industrial premises market in 2022?
We evaluate it dynamically. In Slovakia, we see new logistics and industrial parks growing up next to highways, which, given the situation with the prices of materials and energy, we perceive as courageous but at the same time necessary for the development of the market. We ourselves were part of a speculative construction project last year when we rented and in autumn 2022 we opened a carbon-neutral warehouse in Garba Park Piešťany. Today, we evaluate this project successfully and we bring quality services to our partners such as Group SEB, Mattoni1873, Mars, Danone, Red Bull and many others in state-of-the-art facilities. . An important topic in this period is green buildings, carbon neutrality and proper waste separation, where we manage to achieve results step by step. Sustainability is clearly one of our values.
3. What do you think are the most important changes during this period (market in general, customer mentality, competition, etc.)? How has your company adapted to them?
Especially in e-commerce, we have the opportunity to observe a downward trend in some segments, which we perceive from the point of view of customer mentality as caution and a temporary setting of saving mode. However, new opportunities are opening up, for example in automotive, for which we must be prepared. In our business, we rely on more than 20 years of experience and try to set trends in the outsourcing of services. That is why we are already coming to the Retail market this summer with the new product SMART CHECK, which respects changes with the aim of optimizing costs, without compromising the quality of execution at the store, and taking into account changes in the degree of freedom on the part of individual chains. At NAUT GROUP, we believe in a proactive, future-oriented discussion with the customer that addresses current and future changes in the retail environment.
4. What are the logistics and industrial development plans of NAUT Group s.r.o. in Slovakia?
We supplemented our warehouses in Prague and Budapest with a warehouse in Piešťany and thus fulfilled our infrastructure plans for the next period. However, we continuously bring innovations that result in process optimization and costs under control. We are currently intensively dedicated to pre-picking and increasing capacities for picking e-shop orders. A very interesting and desirable project is also local warehouses for sales representatives, mainly in the field of FMCG and storage of POS materials, which are linked to our POSM management tool application. This application is connected to WMS, making it easier for our partners to track inventory, order flow, reporting and the entire execution from one place.