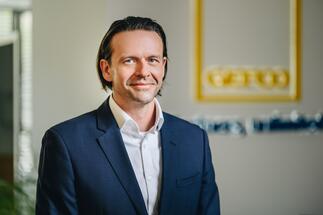 What do you think about the current economic situation and market developments?
The metallurgical situation undoubtedly affects all sectors. Although a few selected services are growing, we all know that the economy is slowing and the number of products is generally shrinking. We cannot avoid this. Overall, we feel a decline in the volume of logistics flows caused by reduced demand in the automotive industry. However, this cannot be generalized. For example, flows from Asia are still very busy, we even have new requirements.
Who benefits most today?
Paradoxically, Asian countries are profiting in the current situation. Shipment volumes are growing and the whole world today faces a shortage of containers for the transport of goods. Maritime transport is busy, but also railways, and in the coming months we certainly do not expect a major decline and release of capacity, quite the contrary. Supply chain shortening is not on the agenda yet. But what COVID-19 has taught us is maximum flexibility. We simply need to react. Respond quickly to unexpected situations and be prepared. We have had a very stable economy here for several years, and that has changed now.
To what extent does the second wave of the coronavirus pandemic affect your plans?
Of course, customer behavior is changing significantly and we have adapted our services very quickly. Today, people buy not only food online, but also cars that we specialize in. Today we can deliver them to the end client right in front of the house and sell them contactless. It is already a relatively well-established service in the countries of Western Europe, we started with it last year and the demand is gradually growing. Our clients are car dealers, leasing companies, but also carsharing companies, for which we provide interior cleaning and ozonation.
Services for the used car market are promising. In this respect, we are a little ahead of our time. We offer people the opportunity to buy a used vehicle, which has a clear history, is not older than 5 years, and is checked by us. There is certainly a significant part of clients who prefer ordering vehicles via the Internet and its subsequent delivery in front of their own house. Some reject standard best practices at an authorized store. Digitization will therefore help significantly during this period.
The operating modes themselves are also changing. In this respect, we are a little ahead of our time and started a campaign with the purchase of used vehicles. We want to motivate people to buy more used, but still good vehicles. We are installing new 360 ° cameras in our selected warehouses. Thanks to them, the client can look at his future car in detail and decide whether it would suit him. In my opinion, however, this does not mean that this trendy method will one day replace the traditional way of choosing a car. Most customers still want to see the vehicle before buying, to touch it.
Do you have other plans, goals?
We are also working on other innovative options. We try to work with some companies more online from other points of view as well. We are increasingly cooperating with pharmaceutical companies. Although we are not involved in vaccine logistics, in general, the increase in this area is really significant.
How do you perceive the importance of automation and digitization today?
Digitization is undoubtedly a big topic. In logistics, we talk about different types of platforms using sophisticated algorithms to link supply and demand. We are constantly working to provide our clients with available transport capacity that would be as efficient as possible. For repetitive administrative processes, we use robotic automation, and internally we develop, for example, applications for truck movement in the area of ​​loading or unloading. But we must realize that we will not replace physical movement. The goods are not a hologram. We will always have to load it and physically transport it somewhere. There is a lot of work behind it. In the future, however, the way transport is ordered and managed may differ.
What do you think about innovation?
Innovation is the engine of development and the Gefco Group has been focusing on it for a long time. An innovation that we would like to present to the Slovak and Czech markets is, for example, the Moveecar application for the already mentioned delivery of online ordered vehicles. Unfortunately, due to the current situation, we had to postpone its launch twice. But I believe that we will have the opportunity to show it to the media later this year.
How do you see the further development of your company and the Slovak economy this year?
Some segments are currently experiencing a gradual cooling of demand. This can finally be expected in today's situation. However, I am optimistic. Gradually we will get used to the new normal and the economy will accelerate again. Whether it will be this year or next is probably no one can guess now. It is the responsibility of us logistics experts to ensure that the transported cargo is always delivered to the right place at the right time. We will have to be even more flexible and we will have to react even more agile to changes in the market.
What is the significance of logistics at present?
We cannot do without quality supply chains today. And I'm not just talking about import flows. We also have Slovak brands that have sound abroad. I don't just mean automotive producers, but we also have a client who produces gelatin for the food and pharmaceutical industries. Most of the production is intended for foreign markets, and we go back to what I have already said. Those products are real, and no matter how far we go with digitization and automation, it will always be more efficient to transport a particular product than to produce it separately in each market.
What is currently the most trendy?
Full-service. The client no longer just wants to provide us with transport from point A to point B. He orders the design of his flows from us, often including customs and tax services. He solves everything with one dedicated person and can dedicate the saved time to his business.
Source:// Systémy logistiky