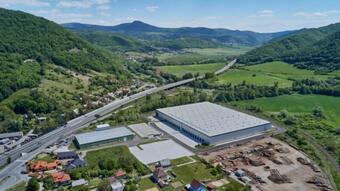 CBRE's findings further show that opportunities in the logistics real estate market for potential tenants are limited by the insufficient number of properties in this segment. Due to this, many demands of the tenants remained unfulfilled. Despite the fact that lower values ​​were achieved in Europe in the 3rd quarter of this year, the area of ​​leased logistics space reached the level of almost 19.56 million m². However, in a year-on-year comparison, according to CBRE, this represents a decrease of 2.2%. At the same time, the demand from tenants was most pronounced in the production sector.
In Slovakia, however, the situation after the 3rd quarter is diametrically different. Between July and September 2022, 90% more m² were rented with us than in the same period last year. This year's rental activity thus surpassed the annual values ​​of the last five years, while it is already clear today that it will be the historically strongest year in terms of the number of rented m². At the same time, it will also be the most dominant in terms of approved m².
Rental prices have risen
The aforementioned imbalance between demand and supply on the logistics real estate market in Europe also puts pressure on rents. Several European countries registered its rapid increase during the 3rd quarter of this year. The highest year-on-year increase in rents in the region of Western Europe was recorded by Amsterdam, up to 25%. According to CBRE experts, the cities of Lyon (13%), Bristol (12%) and Copenhagen (8%) followed. In Slovakia, the average rent rose by 17% year-on-year.
"Many parts of Europe are facing historically low vacancy rates. The reasons are, among other things, the high cost of loans, but also construction materials. These factors are causing not only the suspension of development trends, but also higher costs for businesses due to rent growth, as well as indexation," said Simon Blake, Chairman, EMEA Industrial and Logistics at CBRE.
"During the last two years, we have seen many record quarters. For this reason too, we did not expect this extraordinary trend to be sustained. Despite this, the demand for logistics real estate in Europe is still higher compared to other sectors of commercial real estate. However, due to the current state of the macroeconomic environment, we are witnessing a certain caution on the part of tenants," concludes Joerg Kreindl, Head of EMEA Occupier Industrial and Logistics at CBR