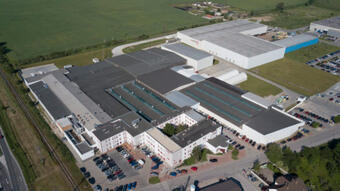 "In 2020, Protherm Production invested more than 5 million euros. This year, we launched projects in the total amount of 7 million euros, "said Peter Kuba, the company's director. At the same time, the plant recently announced an increase in production and one hundred new jobs across the entire production process.
This year's projects
Of this year's planned investment of 7 million euros, 4 million will go to expand production, improve production processes, but also to develop new products. The largest current investment project is the further expansion of the production of ecological products, ie indoor heat pump units. This year, the planned production volume is 35,000 pieces. The investment includes the construction of a new, second production line with a higher degree of automation.
The long-prepared project of a new semi-automatic storage system has recently reached the finish line. Both the system was started and the software was tested. Its capacity is 2,400 pallets and serves for more efficient use of human and spatial capacities in one part of the storage premises.
The company will also use part of the funds to improve the infrastructure, specifically to prepare a new route for the dispatch of products and to expand the car park at the plant. In the second half of the year, completely new changing rooms will be built for employees.
New production lines
More than 2.2 million of last year's investments went to production development. In one of the production halls, they installed the first production line for the production of indoor heat pump units.
At the same time, the plant expanded the production of premium ecoTEC exclusive condensing boilers as well as compact Puma Condens suspended condensing boilers. Last summer, they installed a new powdering technology as part of the refurbishment of the pulverization line.
Source:// Systémy logistiky