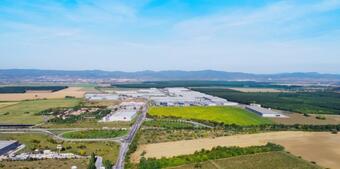 Prologis' total Central European portfolio is 4.2 million square meters (Poland, Czech Republic, Slovakia, Hungary), of which 415,700 square meters are in Slovakia. The total occupancy in 2020 reached the level of 94.5%, at the end of 2019 it represented 95%. In Slovakia, it reached 95.3% compared to 90.6% at the end of 2019.
Lease activity in the region reached 1.74 million square meters last year, an increase of 27% compared to 2019. Lease activity consisted of 467,100 square meters of new leases and 820,100 square meters of extended leases. The concluded contracts on the Slovak market covered premises with an area of ​​140,000 square meters. Of this, 50,300 square meters were new leases and 60,600 square meters were extended leases.
In 2020, construction began on four buildings with a total area of ​​114,700 square meters, of which 81.5% were built to measure (BTS). The construction of seven buildings with a total area of ​​180,400 square meters was completed, including two buildings on the Slovak market with an area of ​​28,200 square meters.
What did the acquisitions look like? Acquisition of 13 hectares of land for the construction of two new buildings with a potential leasable area of ​​60,000 square meters in Prologis Park Budapest-Sziget II. Acquisition of a 12-hectare plot with potential for the construction of 14,500 square meters in Prologis Park Prague-Chrášťany. Sale of building 3 in Prologis Park Nitra with a total area of ​​37,800 square meters. The building was acquired by a buyer who had previously purchased the DC1 and DC2 buildings in the same park.
According to Prologis, especially in these challenging times, innovations such as the Prologis Essentials Marketplace platform or the PARKLife initiative help create a healthier environment and background where our customers' business can thrive.
The comfort of employees and customers remains the focus of the company. In 2020, it provided sufficient information on market developments and provided the results of surveys related to the effects of the pandemic on logistics real estate and the supply chain. Tailor-made solutions and security measures in the parks led to the fact that the operation in the Prologis buildings could continue safely in accordance with government regulations, which limited the impact of the pandemic on customers' business.
Prologis has been guided for decades by clear commitments on environmental access, social responsibility, and governance (ESG). We implement innovations from the Prologis Labs workshop directly into buildings, raise environmental standards, ensure the protection of biodiversity in its localities and build parks that bring lasting benefits to local communities. In collaboration with the charity Cool Earth, which is fighting climate change, and The Planet Mark, a company focused on sustainability certification, the company reduces carbon emissions from the entire life cycle of all new buildings across Europe.
A Customer Experience Team (CET) was established at Prologis Park Bratislava, composed of experienced professionals who provide fast and efficient support for our customers and bring a new standard of customer experience.
Source:// Systémy logistiky