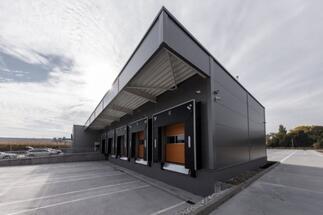 A new distribution center operates in Trnava, which is used by the largest Slovak courier company, Slovak Parcel Service. "This object also confirms the growth of e-commerce in Slovakia. And with this is the need to complete and develop logistics and warehousing hubs, which serve the development of courier and parcel services, "says Tomáš Kosa, CEO of HSF System SK, which was the general contractor for construction in Trnava.
Courier services are one of the logistics sectors that also respond very significantly to technological progress and adapt their warehousing and distribution facilities. A part of the distribution center in Trnava is, for example, a fully automatic processing line for parcels.
The construction lasted six months and cost 1.27 mil. eur. The whole plot covers an area of ​​10,208 m2, the hall itself has an area of ​​1,400 m2. "The built-up area is ready for a possible future expansion of logistics capacities. The great advantage of this location is good accessibility and connection to the highway network, "adds Tomáš Kosa.
The Slovak construction industry is clearly affected by the effects of the covid epidemic and rising prices of building materials. "We will see to what extent the volatility and unpredictability of construction input prices, which are the biggest disadvantage for any part of the construction chain, will affect the launch of new projects and their individual phases in 2022," says Tomáš Kosa.
The Slovak development company KLM real estate, which has been successfully operating on the market for almost twenty years, has dozens of real-estate projects. The preparation and implementation of logistics and retail facilities forms an important part of its active portfolio.