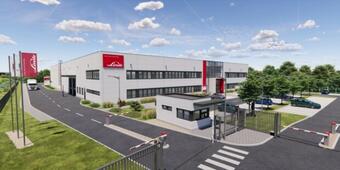 The first phase of ARETE PARK Trenčín will grow on an area of 15,000 m2. The industrial park is located in the established industrial-logistics zone of the city of Trenčín and in close proximity to the D1 highway. "Concreting of the industrial floor of hall number one is currently underway. Completion of the entire project is planned for the end of summer 2023, says Tomáš Kosa, managing director of the construction group HSF System, which is the general construction contractor.
"We are pleased that in cooperation with strong and stable partners, Linde and HSF System, the fifth project within our Arete Industrial fund is being developed in Trenčín, Slovakia," says Igor Šnirc, business development director of Arete in Slovakia.
The Trenčín industrial park will meet all parameters in accordance with ESG principles and BREEAM certification. The main and long-term tenant of the industrial park will be the company Linde Material Handling Slovak Republic, which focuses on the sale, service and rental of handling equipment, shelving solutions and warehouse automation.
The developer and investor of the industrial park in Trenčín is the Arete investment group, which was founded in 2014 and focuses on investments in real estate through regulated investment funds, funds of qualified investors. ARETE PARK Trenčín is part of Arete Group's third fund, Arete Industrial, which focuses on acquisitions as well as construction of industrial and logistics assets in Central and Eastern Europe.