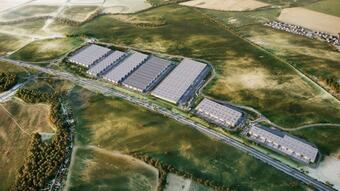 Slovak tenants are more sensitive to rising prices
Michal Cerulík, director of industrial and logistics space leasing at CBRE Slovakia, explains that similar challenges are faced not only by logistics companies in Europe that participated in the survey, but also by users of logistics space in Slovakia. "The biggest challenge is certainly the growth of rent and construction costs, but also the price of energy such as electricity and gas. A significant obstacle preventing the expansion of tenants is also the lack of qualified labor in strategic locations," he explains.
The segment of fully automated warehouses is still in its infancy in Slovakia
Part of the survey also focused on the so-called ESG agenda in logistics and investigated whether tenants also aim for carbon neutrality. Up to 78% of respondents in Europe confirmed this trend, while 17% of them have a budget set aside for it. At the same time, 76% of logistics real estate tenants would be willing to increase their current rent due to the transition to a "green" version. Most would pay more if it equated to savings in operating costs.
However, the situation is different in Slovakia. CBRE experts agree that the company should be pushed to a higher degree of automation, as we see in Western markets. "In Slovakia, the segment of fully automated warehouses is still in its infancy, and we expect this type of operation to expand over the next 3-5 years. The tenants of logistics real estate in Slovakia are, compared to Western Europe, much more sensitive to price growth. Despite the increasingly important trend of sustainability, they can often abandon sustainable or certified buildings at the expense of a cheaper solution," adds Cerulík. However, he also adds that this trend is slowly changing, especially in the case of larger foreign companies that have environmental sustainability goals incorporated into their strategies.
Companies want to expand
The CBRE survey showed that 75% of tenants plan to expand in the next three years, with Belgium, France, the Netherlands, Germany and Italy as their priority markets. 54% of tenants are interested in expanding beyond traditional logistics hubs. A total of 62% of respondents expect expansion in urban logistics, which, according to experts, also applies to the Slovak market. According to Michal Cerulík from CBRE, the need for urban tourism is the biggest difference between Western Europe and Slovakia. "It is true that there is a demand for such warehouses here, especially in Bratislava and regional cities. However, the potential of this segment, given the proximity of larger logistics centers to city centers, as well as the lower population density in our cities, is not comparable to Western Europe," he explains.
The survey also revealed that renters are currently facing several problems. They worry about escalating expenses (energy and labor), lack of skilled labor, environmental issues, availability, price increases or disruption of the supply chain. This aspect was confirmed by up to 84% of respondents, while 32% of tenants do not expect their supply chain to return to its original state before 2023.
They are mainly concerned about the increase in rent prices
Part of the survey was also devoted to the biggest challenges in the logistics real estate market. The tenants interviewed in the survey stated that they are concerned about rent increases, supply problems, equipment obsolescence, but also the costs of logistics buildings (rent and service fees). Rent and service fees represent less than 10% of the total operating costs for 70% of users. Also interesting is the fact that increases in labor and transportation costs have a greater impact on tenants than rent increases. However, tenants have seen significant rent increases and are more actively monitoring their logistics rental costs. According to CBRE, the increasing rent is the biggest challenge for tenants in Slovakia as well.