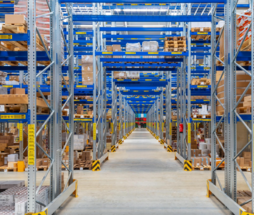 "Sustainability is one of our core values and is reflected in our guiding principle: building tomorrow today. I am proud that in 2021, despite the challenging environment, VGP further advanced in critical areas such as climate protection, sustainable building, and circular materials," said Jan van Geet, CEO of VGP. "The pandemic, the increasingly visible effects of climate change, and the ongoing war in Ukraine, will and have had profound and lasting implications for business and society as we know it today. Now, more than ever, a strong focus on sustainability is imperative – and a key driver of long-term business success. We must not lose sight of what is most essential for the survival of our planet: the achievement of carbon neutrality as soon as possible."
Using state-of-the-art technology, and energy efficiency are central parameters for the commercial properties developed by VGP. The company is committed to reduce the net relative carbon emissions of its "in-use" portfolio with 55% by 2030 and targets the level of DGNB Gold or equivalent for the sustainable certification of its new builds.
The Group remains committed to achieving carbon neutrality by 2025 for its own operations, supported by a Virtual Power Purchase Agreement for its pan-European offices powered by 100% solar energy since January 1st 2022.
The social environment represents an important pillar of our sustainability efforts. Today, more than ever, the Group aims to come together with its communities and stakeholders, building on each other's strengths to create shared value. The VGP Foundation, established in 2019, is engaged in conserving biodiversity, unlocking opportunities for underserved communities, and preserving European cultural heritage. The foundation has already identified 29 projects that address social issues, nature conservation and the protection of cultural assets, and has received over €7 million in funding from VGP to date. VGP continues to engage in building an inclusive workplace that embraces diversity of our people.