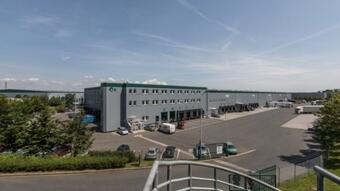 The restructuring of supply chains in order to increase their resilience, together with the building of e-fulfillment capacities, created a significant demand for additional premises. Competition among those interested in logistics buildings continued in 2022, as land shortages, growing regulatory hurdles and rising construction costs slowed the creation of new supply in the most desirable locations.
The Prologis Rent Index report combines our local market knowledge and data to examine net effective rent trends in North America, Europe, Asia and Latin America. Rental rates listed at regional and global levels are weighted averages based on market yield estimates (market inventory multiplied by market rental rate).
The rate of rent growth was the highest in the US. Competitive interest in premises intensified due to the decrease in vacancies. This trend was most pronounced in the US, where customers quickly changed their strategies in response to supply chain disruptions.
The effort to eliminate risks in the global value chain is changing the structure of demand. Properties within reach of end consumers and with access to quality infrastructure are the most desirable. This trend should continue.
Customers are interested in premises in locations where it is almost impossible to build. Although construction activity is growing, its level varies geographically. This is due to regulatory obstacles and a lack of land in some markets.
Rising construction costs also increase rents. Construction costs (and, more recently, faster capitalization) contribute to rent increases that cover developer costs and construction risks.
Eliminating risks
Companies want to increase their resilience by maintaining high levels of inventory, which significantly changes their strategies. Higher demand for real estate increased competition in top logistics locations with already low vacancy rates. A combination of strong demand and tight supply led to further declines in US vacancy (3.2%), while Europe maintained its record low from previous years (2.7%) in 2022. Structural factors shaping demand – including e-fulfillment capacity building, nearshoring, inventory growth and greater product diversity – will drive further expansion in 2023.
Regulatory obstacles
Rent growth was most pronounced in markets close to consumers, which are characterized by land shortages and high regulation. That regulation is increasingly limiting expansion and lengthening construction approval times, which have doubled in the past three years in many markets. In California, Oregon and New York, several municipalities have implemented a moratorium on industrial construction. Similar restrictive measures are being considered in France, the Netherlands and Germany.
Meanwhile, however, the number of construction projects has increased as developers seek alternative sites with minimal regulations to meet demand. To illustrate – despite growing demand for space and rent growth in urban locations, the share of total European construction in urban markets between 2017 and 2022 decreased from 28% to 19%. As a result, companies must make quick decisions to secure space in locations where there is expected to be a continued shortage of new logistics buildings.
Construction costs
Construction costs have risen due to material shortages and disruptions to supply chains due to the COVID-19 pandemic, the war in Ukraine, strikes and rapid inflation. Over a 24-month period (October 2020-2022), materials costs increased by 39% in the US/Canada and 35% in Europe.
Rising construction costs and high land purchase prices have caused developers to raise rents to further encourage new construction. Higher costs for modernization and expansion affected rents in all markets, but this factor was strongest in locations where there is plenty of land, where supply keeps pace with demand and where developers build with low margins (e.g. Poland).
Price pressures in the supply chain are beginning to ease, which is reflected in the stabilization or decline of construction material costs. The expected decline in material and land prices in 2023 will be offset by higher yields, which means higher rents to cover construction risks.
Forecasts
Location will remain a key parameter. Transportation costs will fluctuate and consumer demands for service levels will remain high. As a result, markets with quality infrastructure close to the end consumer are likely to do better. After a record 30% rent growth in 20221, we expect the growth rate to normalize due to fewer closed contracts (slowing economic growth) and oversupply in some markets.
"Structural forces (including e-commerce growth and supply chain reconfiguration) will drive expansion over the next business cycle. However, building regulations, land shortages and rising capital costs will continue to limit new space supply and conditions are unlikely to change in the markets with the greatest land shortages."
United States/Canada
US/Canada rent growth accelerated to an all-time high of 34% year-over-year. Record low vacancy rates in most locations and strong demand are responsible for the significant growth. The vacancy rate remained at a low level of less than 3% until 2022. "Our customers reported high activity and occupancy throughout the year," states Prologis in its report.
The IBI, an internal Prologis metric developed to track customer sentiment, hit a healthy 60 and space utilization reached 86%, indicating minimal vacancy and an ongoing hunger for warehouse space. "The pace of customer decision-making is normalizing and unlikely to accelerate in the coming year as economic uncertainty grows," the company said.
With a record amount of space in the Prologis portfolio, customers will have new options for expansion at 545 million square feet. in 31 US markets. Rent growth is likely to slow, but should remain above inflation.
Europe
Rents in Europe grew at a record pace of 15% year-on-year in 2022. Vacancy reached a record low of 2.7% at the end of 2022, leading to accelerating rent growth in all markets. The firm sees a clear parallel between TMS (duration of space availability)/risk associated with new supply and rent growth, as rents have increased most significantly in locations with the lowest vacancy rates and the greatest lack of new supply, such as Prague.
Factors exacerbated by the war in Ukraine (significant increase in costs for modernization and expansion) are also pushing rents up, even in locations with plenty of land. For example, in Poland, where rent growth has historically lagged behind other markets, rents have increased by more than 20%.
The pace of new construction slowed in 2022, and lower completions are expected to match lower demand in 2023, prompting a slight increase in vacancies. A slowdown in the economy could ease market conditions, and a slight increase in vacancy would offset the negative cyclical impact on rental growth. In the fourth quarter of 2022, rents increased (by 3%) despite macroeconomic factors that predicted uncertainty.
Asia - China
Rent growth in China slowed in 2022 and reached 0.2% y-o-y at the end of the year, decelerating from the previous historical growth of 4-5% y-o-y.
While the supply of new premises was close to the record level of 103 million. ft. Thurs., strict lockdowns due to COVID-19 dampened demand at the start of Q2. This caused the vacancy rate to rise to 19% from 16% at the end of 2021.
Rent growth was higher in urban agglomerations with a shortage of land. In the centers of urban agglomerations, where the vacancy rate was around 10% at the end of the year, rents increased by 1.6%, while in locations outside urban agglomerations with a vacancy rate above 20%, rents decreased by only 2.5%.
Japan
Rents in Japan rose by a modest but historically stable 1.4% year-on-year. This is a slightly higher growth than last year (below 1%). High inflation (by Japanese standards) has not been reflected in rent prices and remains low globally, with the rate (excluding food and gas) hovering around 2%.
New supply in 2022 grew 26% to 52 million square feet. Vacancy increased to 3.9%, but remained below the 6% level of 2017. New construction in regional markets (especially Nagoya) increased vacancy rates and kept rent growth lower than in Tokyo and Osaka.
Latin America - Mexico
Rents in Mexico's six largest markets are set to grow by 16% in 2022. Juarez and Monterrey achieved a year-on-year increase of 25%. Nearshoring is increasing demand for space in Mexico, while supply is growing slowly. Developers don't have enough vacant space for customers - the vacancy rate in markets near the US border is less than 1%.
"This momentum is likely to continue, as there is no available land in frontier markets with a suitable energy grid," believes Prologis. Mexico's e-commerce growth continues to support demand in consumer-saturated markets such as Mexico City, Guadalajara and Monterrey. It is estimated that the share of e-commerce sales in the retail sector will reach 11-12% in 2022, while in 2021 it was 10%.
Brazil
Rents in São Paulo and Rio de Janeiro increased by 10.8%, which is nominally less than 13.2% in 2021, but increased in real terms due to inflation (from 2.8% in 2021 to 4.5 % in 2022).
The vacancy rate remained stable in the low tens (11% to 13%) throughout the year due to conflicting market influences. On the one hand, tight monetary conditions have significantly limited new construction.
On the other hand, buyers signed leases on average for smaller spaces than a year ago (50,000 vs. 100,000 square feet). For customers from the field of e-commerce and 3PL, the key decision factor is the quality of the buildings and the location close to the end consumers.