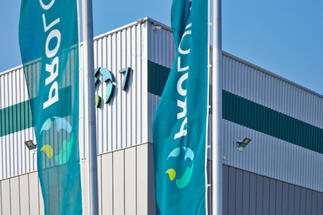 Prologis' employees, customers and supply chain came together under the leadership of a specially created action team to create a campaign called "Dock Doors of Giving". It was divided into several different initiatives with special days to promote awareness of the most important topics, which were selected on the basis of nominations by local communities. Each day of the campaign, a symbolic "docking gate" opens, fulfilling Prologis' commitments to its communities.
The COVID-19 pandemic has made conditions more difficult for many smaller charities, as people have often chosen to contribute to larger health bodies. Also, some smaller charities were unable to organize their usual fundraising events due to the pandemic.
The Slovak team decided to support several projects to help as many people as possible. It will support the Food Bank of Slovakia, help long-term hospitalized children and offer funds to the Bethany Asylum Center, which provides facilities for women who are victims of domestic violence. The local team has prepared Christmas gift packages for seniors. Animals will also be helped - Prologis will provide food and other necessities to the dog shelter in particular.
Martin Baláž, Prologis Vice President and Country Manager for the Czech Republic and Slovakia, says: "I am glad to have the opportunity to take part in this campaign. Not everyone is lucky enough to spend the holidays in good health and with their loved ones. Christmas is a time when wishes are to be fulfilled, and during this time we have decided to use our contribution to conjure a smile on the faces of those in need. It's great to be part of a team of people who care about the good of their surroundings and for whom it is natural to help. "
Prologis employees and customers were invited to give their tips to charities that could be supported by the campaign. They can focus on a variety of charitable activities, including combating food insecurity and hunger, helping the elderly, socially disadvantaged groups or people with disabilities.
Source:// Systémy logistiky