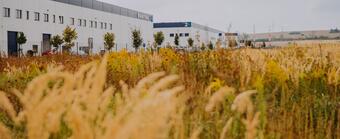 The logistics hub Panattoni Park Košice Airport consists of two modern halls, which together offer a total area of more than 36,000 square meters. The complex has an excellent location close to Košice Airport, which opens up an opportunity for clients who require connectivity via air freight. Thanks to the airport, tenants have the opportunity to provide services not only for Slovakia, but also for the whole world.
"I am delighted that one of the largest pharmacy chains has chosen the new premises to increase their supply capacity and the new premises will help them to more effectively meet the needs of their customers in Slovakia, where they have over 360 outlets, as well as customers in the surrounding region. I am convinced that this activity will also help with the creation of new jobs in the surrounding area," says Erik Ivaničko, Panattoni Director for Slovakia.
Medical Group SK, a distribution company of medicines and medical devices, will use more than 7,600 sqm in the just completed Hall B at Panattoni Park Košice Airport.
"Our goal is continuous growth, especially with an emphasis on increasing support and improving customer and patient care in our pharmacies. With the new warehouse space, there is room for us to improve and, above all, increase the availability of medicines for our pharmacies and for our patients," said Ing. Jan Žák, Chairman of the Board of Dr.Max Holding.
This is another prominent name in the list of landlords of this modern logistics centre in Košice, alongside companies such as GreenPharm or PKZ Logistics.
The new tenant will have a state-of-the-art industrial building designed and constructed with the intention of being in harmony with the surrounding nature and helping to maintain and improve the ecological aspects of the Košice region. The buildings in this industrial park aspire to achieve the international BREEAM New Construction environmental certification at the Excellent level. This certification guarantees environmental friendliness, a maximum level of energy self-sufficiency, superior working conditions for employees and an overall level of sustainability for the entire facility.