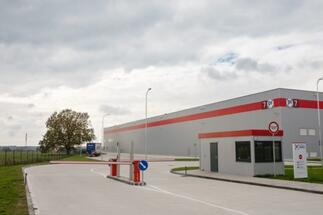 The postponement of the start of construction due to the pandemic was also reflected in the increase in costs that the investor invests in the construction of the new hall. "We are talking about an increase of 11 to 15 percent, which is a really significant amount for such projects and will be reflected in the expected return of the project. However, more expensive construction is affecting the global real estate market. We are all the more pleased that, despite the corona crisis, we have become the largest developer of logistics properties in Slovakia, "says Peter Jánoši.
Expansion plans in P3 Bratislava D2
The first tenant in the new hall will be IHLE, one of the most powerful European wholesalers of tires, discs and complete wheels, which is a long-term tenant of the P3 Bratislava D2 park. "Flexibility is one of the most common requirements of our clients. With IHLE, we are implementing the third relocation within the park in 10 years of cooperation, "describes Peter Jánoši. Within the total area of ​​the new hall, IHLE will operate on approximately one-third of the total area, ie approximately 7,000 m². The remaining area will be used for future P3 clients.
Top hall and offices overlooking the 300-year-old oak
The new hall in the P3 Logistics Park Bratislava D2 will be an expansion of the seventh property, which P3 Logistic Parks manages in this area with a total area of ​​236,890 m2. "We build modern properties of the highest quality level A, which meet strict environmental criteria, most of them are BREEAM Very Good certified. We will also apply for it at the new DC7B hall, "says Peter Jánoši.
The certification of buildings talks about the economy and efficiency of the use of energy within the premises, about environmental friendliness and at the same time monitors how people feel in the building. Typical industrial logistics centers are slowly becoming modern parks. These are no longer just a cold storage space, but are gradually changing into a work space supplemented by relaxation zones. The developer also plans to establish a rest zone in his park near Lozorno, which includes a 300-year-old summer oak.

"This tree is connected with the village, its inhabitants and already with us. We keep it in full beauty, the construction will not affect it, on the contrary, we have adapted its plans and reduced the usable built-up area by approximately 3,000 m². In addition to sustainable solutions, we generally promote a lot of greenery in our parks, "adds Peter Jánoši.
In conjunction with ecological solutions, the developer reduces the energy costs of operating its buildings and increases the value of constructions. All halls P3 are equipped with a modern heating and ventilation system, have increased thermal insulation of the roof and economical intelligent LED lighting. The buildings are also structurally ready for further expansion of office or retail space.