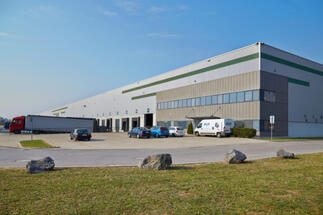 As Prologis provides value beyond real estate to all its customers, regardless of the size of their business, new tenants will be able to use the services of a dedicated customer experience team and Prologis will take care of the park's friendly atmosphere through the PARKlife initiative.
It is important for the company to provide all customers with suitable premises and services, regardless of the size or requirements of their business. In addition, it also strives to bring them values ​​beyond the four walls and roofs of buildings. Therefore, it is constantly looking for new ways to ensure customer satisfaction. In the spirit of this commitment, Prologis Park Bratislava is introducing a new logistics concept - high-quality flexible spaces in smaller areas.
Our so-called "Small Flexi Units" provide a premium background for fast-growing companies and start-ups that would not otherwise opt for logistics spaces of this type. The new units are also a more flexible option for large companies. We are introducing the concept for the first time in building 2 Prologis Park Bratislava, where we have divided 4,800 square meters of modern logistics space into four separate units with areas from 600 to 1,500 square meters.
The main goal of the Small Flexi Units 'concept is to help dynamically developing companies meet their short-term expansion goals," says Jakub Randa, Prologis Leasing and Customer Experience Manager in Slovakia. "By implementing this concept, we are responding to significant demand for small warehouses with flexible rental conditions. The strength of demand was immediately confirmed by the great interest in our first smaller units in Bratislava. We hired three of the four within a month of launch. "
Thanks to flexible rental conditions, these units are the perfect springboard for companies that want to expand. At the same time, each unit can be adapted to specific requirements, while it is possible to expand or reduce it by up to 600 square meters. At the same time, this concept strengthens relations in the workplace - the units in Prologis Park Bratislava include a social space with a kitchen and dining room. The community in the park is also supported by Prologis through the PARKlife initiative, in which it provides leisure facilities to all its customers and their employees.
"Small Flexi Units" in Prologis Park Bratislava have so far been hired by a global forwarding company, a manufacturer of collection and sorting machines and a logistics company. These companies will occupy their premises with sizes of 1,500, 1,400 and 1,220 square meters during the spring. One flexible unit with an area of ​​600 square meters is still available.
"We are pleased to welcome our first customers in Small Flexi Units over the coming months, which have great potential to become a place for dynamically growing companies. New customers will have our team to improve the customer experience to meet all their requirements. We look forward to accompanying our customers with future success. Whether it's pioneering solutions, supporting operations, or building communities in our parks, innovation is… "
Source: // Logistické systémy