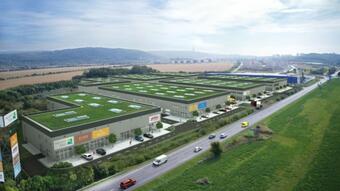 On June 29, with the participation of representatives of Karimpol, TÜV SÜD, Metrostav and the mayor of Devínská Nová Ves, construction work on the new project of the Austrian developer Karimpol Group, which represents a new concept Work.Shop.Store - as part of the Squarbizz project, was officially launched. a combination of modern and flexible sales, storage and exhibition space.
This is the first project in Slovakia focusing on small and medium-sized companies, to which it wants to offer high-quality and energy-efficient premises.
"Our goal was to build a park that will take the business to a higher level and provide a truly representative space that meets all modern and environmental requirements. We are talking about local small and medium-sized companies that we want to support and strengthen, says Edik Plätzer, a partner at the Karimpol Group. As part of this project, the company will help create from 300 to 500 new jobs in the region. "Work.Shop.Store are the three words that best describe the essence of Squarebizz. The project offers the opportunity to tailor a representative, functional and modern space to measure and, thanks to its location in Bory, brings excellent accessibility and fast connections to existing transport routes for B2B or B2C customers, "adds Plätzer.
"Future tenants can have their business under one roof here without having to deal with logistics between the warehouse, the office and the store or showroom. Strategic connection to the highway and a lucrative location are just another bonus. The first phase of the project will bring 15,000 m2 of state-of-the-art storage and exhibition space with a capacity of up to 2,000 m2 of offices in three halls. The project also seeks environmental responsibility through the implementation of green roofs, a rainwater retention system, a heat recovery system and high energy efficiency. Our commitment is also to plant more than 160 trees in the Squarebizz Bory area, "adds Peter Šmitala, Project Manager at Karimpol Slovensko.
In addition to the official start of work, Karimpol representatives also introduced the first tenant of the Squarebizz project at the event. It has become a major international company, TÜV SÜD, which has been building professional services in the field of quality, safety and inspection for more than 150 years. "In several markets abroad, we are leaders in providing technical inspections of vehicles and with this service, we come to Slovakia in 2022. We bring to the Bory locality a modern and technologically advanced operation of the technical, emission control and originality control station ", reveals Martin Tichý, divisional director of TÜV SÜD Slovakia.
Source: // Systémy logistiky