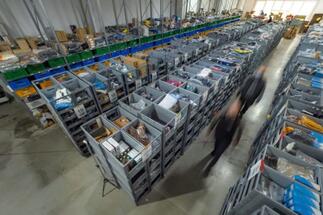 The park is located only 24 km from Bratislava directly on the D1 motorway in the well-known and established Senec zone, which has enjoyed a reputation as a logistics and industrial hub of European importance for years. "Bratislava Logistics Park is home to many important and well-known market players such as DSV or Coca Cola, and we are very happy to expand our tenant base with another rapidly developing innovative company. Our park provides Class A warehouse space that can meet even the highest expectations of our clients," says Peter Šmitala, project manager at Karimpol Group.
The operation of one's own e-shop and the idea of ​​building one's own software seven years ago brought together the pair of founders of the isklad.eu start-up. In 2016, the company started providing fulfillment services and over the course of four years was able to help more than 100 e-shops, process 1.5 million orders and in 2019 achieve a turnover of 2.6 million euros **. Satisfied clients of the warehouse today include e-shops such as SHOOOS.sk and Maxsport.
"Compared to our own operations, outsourcing through our company can save customers 25 to 38% of costs. The isklad e-shop service package offers a unique combination of automated software and warehouse solutions (warehousing processes, software, manpower, warehouse leasing, logistics, cash on delivery, reverse logistics, or online payments), for which building their own reliable logistics infrastructure would be highly expensive and complex matter. Today we serve 95 clients and process 31,000 orders per month, but for a longer period of time we have been recording at least 2 new inquiries from e-shops per day, which we had to reject due to limited capacity. Entering into cooperation with the professional investment platform Crowdberry and leasing a new warehouse in Senec are strategic steps for us before the planned expansion,"says Martin Mitošinka, CEO of isklad.
The Crowdberry platform enables private investors in the Czech Republic and Slovakia to invest in modern companies and real estate, where they see potential and contribute to value creation in society, as well as economic growth. "We are convinced that the warehouse has the potential to become a leading provider of e-commerce infrastructure in the region of Central and Eastern Europe. Its growth is directly proportional to the growth of the e-commerce market and the volume of orders, which with the increase of storage capacity and full automation can eventually reach a value of several tens of millions.
As a technology company, storage has an advantage over the competition, which in most cases operates on manual or less automated processes. The stock brings change and from the investment point of view we perceive positively not only the attractiveness of the segment, but also the business strategy and experience of the team. After 7 years of developing its own software, the warehouse has been transformed into an advanced logistics center with a global reach. Thanks to its flexibility, it can cover the needs of both small and larger e-shops, "explains Michal Ondrišek, Crowdberry partner, of the company's investment potential.
In recent years, e-commerce has been one of the fastest growing segments, which not only can be resilient to economic challenges, but its growth is even exacerbated by the current situation. The support of Slovak technology and logistics companies should be one of the priorities of the Slovak economy, because innovative companies such as storage can build the most modern and competitive fulfillment centers in Slovakia and thus attract e-shops and brands of international importance.
Source:// Systémy logistiky