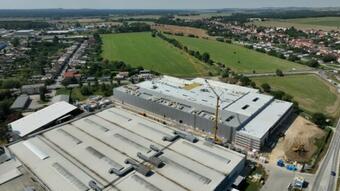 The development group IPEC Group, an investor in the construction of a research and development center and production halls in the Senica industrial park, has been developing a local industrial park with a building area of more than 30,000 m² without support from public budgets for more than 20 years.
Another production hall with an area of up to 13,300 m² will be added to the existing halls and center, which meets the most modern standards for ecological buildings and progressive energy management (energy class A0). This week the construction reached glajchu, its highest point.
The largest mobile construction crane in Central Europe placed the symbolic tree on the roof. The Liebherr MK 140 PLUS crane can grow to almost 100 meters and reach up to 58.5 meters. Its carrying capacity depends on the working position and height. When the trolley is fully extended to the end of the boom, the load capacity is 1,900 kilograms. However, the machine achieves a total maximum load capacity of up to 8,000 kilograms at 12 meters. On the construction site in Senica, he places very heavy air-conditioning units that ordinary mobile cranes would not be able to carry. Static machines, on the other hand, are no longer suitable for this work with regard to advanced construction.
The complex also includes an extensive research and development center for air conditioning units - including those that will be used in electric cars.
"We are happy that, in addition to the increase in employment in Senica, the positive effects are also reflected in the constant increase in its income," says Ivan Čarnogurský, CEO of IPEC Group. "IPEC Group has built an area for production and research here with exports of more than 250 million euros, of which only annual contributions to insurance companies and taxes amount to approximately 12 million euros. The amount of the investor's investment will be received by the state and insurance companies through taxes and levies within two years," he adds.
"For the city, investments that keep our natives in the city and also bring jobs with high added value are key. The bonus here is the active cooperation of the investor with the city in integrating the building into the environment," stated the mayor of Senice, Martin Džačovský.
"This investment has several benefits that we can use in the region. They are primarily related to the research and development center, the creation of a relevant number of new jobs, and last but not least, the project increases the attractiveness of our dual education with its opportunities for employment and practice," said Trnava County Mayor Jozef Viskupič.
The new building, which will be completed and handed over for use in the fall of this year, will provide the residents and visitors of Senica with an increase in flood protection as well as a publicly accessible green zone and a landscaped park that can be used for relaxation and sports activities.