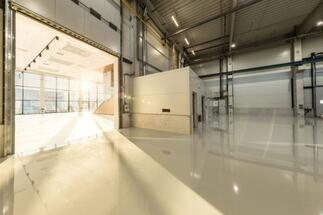 The new showroom of FANUC Slovakia is based on the industrial architecture of hall buildings and its dominant element is the yellow cladding of the facade and a fixed lamella system.
"We implemented the construction as a modern representative building sensitively set in an area with great emphasis on material," said Tomáš Kosa, CEO of HSF System SK, which was the general contractor.
The showroom space on the first floor has an L-shaped floor plan. This part is functionally connected to the warehouse, training facilities and offices on the second floor. The building also has a direct staircase with a glass railing and an elevator shaft.
A large amount of glass was used for the realization, for example for facade glazing, for windows, interior partitions or for glazed awnings and railings with a combination of stainless steel.
"In the new showroom, we will have more opportunities to present the powerful products and software of the traditional Japanese brand FANUC, the largest manufacturer of industrial automation and robots in the world. We will also use the premises for training and customer support, "says Marián Vass, CEO of FANUC Slovakia.
The building grew on a plot of 9,000 m2, the built-up area alone is 1,896 m2. About half of the land is green. The Nitra - North Industrial Park, where the building is located, has an excellent connection to the transport infrastructure and the R1A expressway.