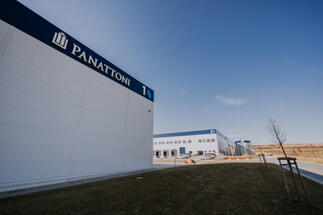 Despite several unfavorable factors such as inflation, rising prices and a shortage of building materials and the war in Ukraine, the long-term outlook for the logistics developers segment remains optimistic. This is also proven by the latest data from the PropertyEU portal, which summarizes the largest developers for the period from 2019 to 2021. Together, they built more than 22 million square meters of industrial and logistics facilities during this period. This represents up to a 21 percent increase over the period 2018-2020.
However, the war can still have consequences that will manifest themselves in the coming months. As Robert Dobrzycki, CEO and co-owner of Panattoni Europe, told PropertyEU Magazine, he is most concerned about the great unpredictability, which is slowing down a number of processes.
"The shortage of supplies of building materials and inflation will cause an increase in construction projects - at least in the short term." Panattoni currently has projects under construction with a total area of ​​4.73 million square meters.
There are also more projects in Slovakia. In March of this year, this developer handed over a new, second, completed hall in the Panattoni Park Košice Airport complex with an area of ​​almost 20,000 square meters.
The Panattoni Park Bratislava North logistics complex will be added during the year. It will be built on land with an area of ​​330,000 square meters near the village of Plavecký Štvrtok with a connection to the D2 motorway. The first phase will involve two modern halls with a total area of ​​18,000 square meters.
"I am glad that for the third Panattoni project in Slovakia we got this location where the long-term potential was presented in the past, but there was no investor and industrial real estate developer who will fully discover and develop it," says Erik Ivaničko, director of the Slovak branch Panattoni.
Despite the conflict in Ukraine, the Panattoni believe that, thanks to well-designed processes, they will be able to overcome this period and continue the trend they have set for five years. For the sixth year in a row, Panattoni has become the largest industrial developer in the EU with up to 133 projects, with a total completed floor area of ​​up to 6,979,307 square meters.
The English developer REIT Segro has moved from third place to second place with 2,546,896 square meters of completed floor space since the last evaluation. The third largest industrial developer in Europe is Prologis with 2,408,909 square meters.