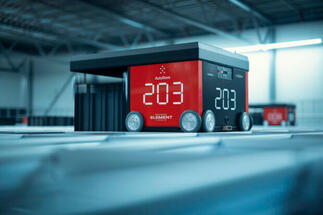 The technology for the automation of Sport Vision's central warehouse will be provided by the Czech branch of Norwegian Element Logic, a leading supplier of automated warehouse solutions AutoStore. The warehouse with an area of 21,000 m2 is located in Seredi, Slovakia, and provides supplies for customers of the e-shop and Sport Vision stores.
The whole project started last year. In the initial phase, Sport Vision has decided to invest 6.2 million euros in the automated solution. AutoStore will have 60,000 425 mm bins on an area of 2,400 m2, which can store up to one million items of goods.
"Investment in automation has become essential to support our continued growth, increase speed to market and expand in the region. This automated solution will allow us to serve online customers and our stores much faster, with less error and higher accuracy," explains Sport Vision Group Logistics Director Tomislav Dobrijević.
So far, 40 R5+ robots, 15 ports will be installed, and at the same time space will be created for the implementation of another 19 ports in the future. Work efficiency will increase up to 4 times.
"Each project is individual and we design warehouse automation in such a way that the solution is as efficient as possible based on many parameters, such as the size of the premises and requirements for the volume of handled goods," explains Element Logic project manager Josef Brázda.
Element Logic uses eManager software during installation, which allows Sport Vision to control product location, inventory, returns processing, replenishment and picking.