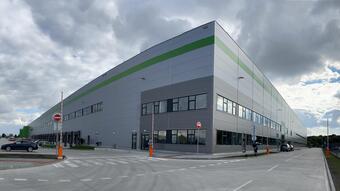 The building from the Austrian developer Go Asset has access to the Metrans railway transhipment terminal, which allows distribution to more than a dozen countries. Ingram Micro will do the logistics for the About You fashion clothing brand.
The supporting structure of the hall was completed by the developer in June this year, the excavation work was at the beginning. The project is also part of an industrial park, which the village began to build 15 years ago. The hall is part of the Log Center R7 project.
Accessibility to the R7 motorway
The proximity of the R7 motorway ensures efficient transport of goods across Central and Eastern Europe. The hall has a size of 55,000 m2, a length of 450 meters and a clear height of 12.5 meters.
The building material and equipment are made of sustainable and future recyclable materials. It will include solar panels on the roof and charging stations for electric vehicles.
The floodplain bridge helped
According to the director of development Go Goet Michal Bubán, the opening of a new section D4, the so-called Alluvial Bridge, will further strengthen the position of Dunajská Streda as a logistics center. "Getting R7 has helped attract hundreds of jobs to the region, where a high percentage of the population has to come to work in Bratislava and the surrounding cities every day for work," said M. Bubán.
The mayor of Dolné Kračany, Ladislav Gódány, told TASR in June that they were interested in employing people from the region and attracting women who go to work in Hungary or Austria with attractive job offers. According to him, the park's perspective for the next two years is five thousand employees in companies.
The region has great potential and can become a logistics center with an international reach of modern warehousing and international transport of goods. It lies directly on the axis Prague - Vienna / Bratislava - Budapest. The important European capitals of Vienna, Budapest and Bratislava are a maximum of 150 kilometers away.
Another hall under construction
The developer is building another hall next to it with a size of 30,000 m2 and expects that it will also be able to attract more investors to the region through better infrastructure. Completion of this hall is scheduled for summer 2022.
Schindler, Wertheit, Cargo-Partner and KIK are also based in the industrial park in Kostolné Kračany.
The Austrian company Go Asset builds on large-scale logistics projects outside built-up areas as well as on urban logistics projects in Austria, Slovenia and Slovakia. Its largest projects include the Log Center R7 in Kostolné Kračany, the Log Center Adria near the Slovenian port of Koper and the Log Center Maribor.