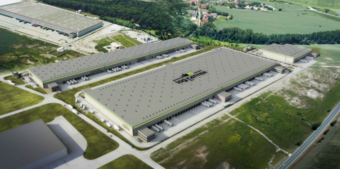 Excavation work was in January
The hall is part of the Log Center R7 category A industrial and logistics park with three halls and a total area of ​​approximately 100,000 square meters of usable area. The developer is building it for Ingram Micro, a provider of e-commerce and logistics solutions.
The project is also part of an industrial park, which the village began to build 15 years ago. From September, the company should gradually employ more than a thousand employees in the processes of distribution of goods. On Thursday, June 17, the director of the development of Go Asset, Michal Bubán, said that the excavation work of the new logistics park took place at the beginning of 2021. He plans to put the construction of the largest hall within it at the end of this year, he confirmed.
Village activity
The foundation stone of the hall was tapped by Deputy Prime Minister and Minister of Economy Richard Sulík (SaS) together with representatives of the investor and the municipality. The Minister stated that Kostolné Kračany is an example of how it is necessary to support local companies, which subsequently help to develop the economy. He highlighted the activity of the village, which undertook to build an industrial park, and thus brings the work closer to the inhabitants of the village and the region.
Railway connection
The hall is 450 meters long and 12.5 meters high. It will be equipped with solar panels on the roof, charging stations for electric vehicles and green elements. Its accessibility to the R7 motorway southeast of Bratislava allows access to efficient transport of goods. The building is close to the Metrans railway transhipment terminal in Dunajská Streda and already today the distribution of products to more than a dozen countries is planned.
Employment for women
The mayor of the village, Ladislav Gódány, told TASR that they were interested in employing people from the region and attracting women who go to work in Hungary or Austria with attractive job offers. According to him, the prospect of the park for the next two years is five thousand employees in companies and about 60 percent of them women. Even among Ingram Micro Slovakia employees, up to 80 percent are women.
In addition to Ingram Micro, the Coop JLC Jednota food logistics center, the Swiss-German industrial company Schindler, the Bracchi and RLS logistics centers, which is the Central European distribution center of the German company KIK, are located in the logistics park in Kostolné Kračany.
Source: // Trend Reality