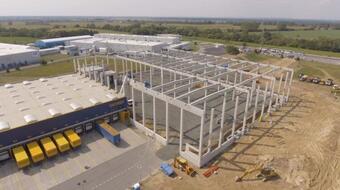 Experts from the company identified mutations in the new coronavirus, growing global debt and the possibility of long-term high inflation among the key risks for the world market in the next 12 months. However, according to the company, these factors will suppress the demand for real estate, government incentives and the reopening of operations.
The company's calculations show that the amount of gross domestic product (GDP) will increase in the near future, mostly in the Americas, Asia and the Pacific. In Europe, GDP is expected to grow the most next year.
Industry and logistics took the first place
As regards the real estate market, the rental housing, industrial and logistics real estate sectors have already recovered from the global economic downturn. "In the case of office, retail and hotel real estate, there will be a recovery in the next two years," the company said.
Richard Barkham from the company thinks that inflation fears are likely to cause some market volatility. "However, we do not expect central banks to be forced to raise interest rates in the next year. At the end of the day, it will not only support economic growth for the next two years, but also create a positive environment for commercial real estate, "he commented.
A historical record in Slovakia
As for Slovakia, the company reminded that in the first half of the year, investment activity in commercial real estate reached almost half a billion euros, which is the most historically so far. "This trend will continue in the coming months, with investments in office and logistics, industrial real estate predominating," said Ľubor Procházka, the company's sales director for Slovakia.
Experts expect a recovery in the second half of this year with global real estate investment. The volume may increase by almost a quarter this year. Among the various segments, the company specified that vacancy in offices is likely to increase this year, but in 2022 the vacancy rate will decrease.
In industrial and logistics real estate, the company predicts that this sector will be the strongest this year. "Retailers will increase their stocks to prevent crises," the company explained. In the retail segment, the company expects the recovery to be uneven, with companies investing the most in luxury and services.