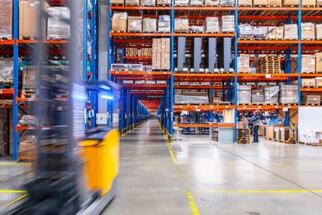 Following the construction of the first warehouse in 2012 and the addition of a second hall in 2016, the iLogistics Center in Dunajská Streda is expanding every year to meet growing customer demand. "The last expansion was divided into two phases, during the first we increased our capacity by 3,600 pallet spaces on narrow aisle racks during June and we also acquired two new system trucks with induction guidance. The second phase took place in October and included another 1,600 pallet slots served by one new VNA truck. This investment will help us to use the full 14.5 m clear height of the warehouse and increase the number of pallet places per square meter, "said Tibor Majzún, Managing Director cargo-partner in Slovakia.

Thanks to the direct connection with the METRANS railway container terminal, the iLogistics Center in Dunajská Streda offers an average one-day advantage over comparable services. This makes it one of the most important cargo-partner railway junctions in Europe. Its convenient location allows rail access to most of the major seaports in Europe and to China via the New Silk Road. From this intermodal gate, the cargo partner supplies automotive components to leading OEMs in several European countries, including Slovakia, Hungary, Austria and the Czech Republic. The modern warehouses provide 30,300 pallet spaces on 18,300 m2 of warehouse space, including a 3,300 m2 customs warehouse. In addition, the total land area of ​​60,000 m2 allows the warehouse to be expanded by another warehouse.
In addition to the iLogistics Center in Dunajská Streda, the cargo partner also operates a second warehouse in Bratislava with a storage area of ​​8,200 m2 and a capacity for 14,000 pallets. Tibor Majzún clarified: "Thanks to its location in the city, good motorway connections and proximity to the borders with Austria, Hungary and the Czech Republic, it is an ideal logistics hub, which serves in addition to short-term and long-term storage, especially as a transhipment and distribution point Vienna, Frankfurt and Munich airports. HACCP certification allows us to store dry food goods in commercial packaging. The warehouse in Dunajská Streda serves for the needs of sea transport. "