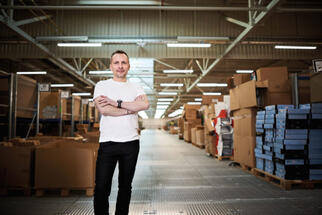 Bonami, a retailer of furniture and home and garden products, is preparing further drastic steps as part of its expansion. In response to rapid changes in the market, CEO Pavel Vopařil plans further massive investments in warehouses, logistics and the brand itself. The ambition to gain additional market share wants to be supported by expansion and new above-standard services for customers, which will make their shopping even easier.
"We expect strong growth this year. I see a great opportunity in the market, not only locally, but also in other countries. Bonami is profitable in the long run - in the first quarter of this year, in addition, sales doubled year-on-year and increased profits several times over, which allows us to finance further development activities in all markets. It is an opportunity for us to invest in warehouses and stocks, but also in the Bonami brand itself," says Pavel Vopařil, CEO of Bonami.
Bonami invests tens of millions of Czech crowns in warehouses and logistics, thus doubling its warehouse capacity, especially of large furniture. He then invests an even larger amount in the stocks themselves. "Our long-term goal is to have 90% of sales from the warehouse, and we want to adjust their availability to this," he adds, adding that he will focus most on popular and most ordered items, especially furniture.
A big topic for the coming years will be a private label for Bonami. "They make sense to us especially in terms of quality control, availability and reliability of supplies. For some suppliers, our growth is too fast and they do not have time to produce for us. At the same time, we can offer our customers a unique range in terms of their needs. "
In addition to the products themselves, Bonami's attention is also focused on additional services to customers, such as distance shopping with the assistance of staff at Bonami stores, which will enable the customer, so to speak, a real offline experience. The service includes specialized advice via video call or chat, during which it will be possible to view the goods in stores, consult the purchase, but also implement it. Another expected novelty is a platform for consulting with interior designers, who will help those interested with a complete interior design of the selected space, including products, regardless of their brand and affiliation with Bonami.
Although the expansion of the stone shops has been slowed down by the pandemic, Bonami still plans to open some of them this year. "It is still true that we want to be with stone shops in all our markets," says Pavel Vopařil. On the other hand, the Bonami Kuriér service, launched last year, is rapidly expanding its coverage. In May, the service will start in Bucharest, then in Poland and other markets.
Bonami will also launch a massive online advertising and TV campaign on the Czech, Slovak and Hungarian markets in April, in which tens of millions of crowns will go.
Source:// Systémy logistiky