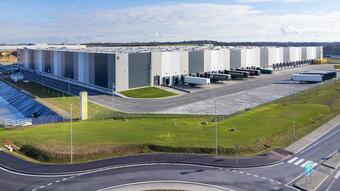 "This is a relatively unique hall with a clear height of 12 meters. For this reason, a mezzanine space of 1,400 m2 could have been created here. It is located on a special concrete platform and will serve as office and setup space. Dirks had a number of challenging requirements which we were happy to accommodate. Among others, these included a significant energy requirement of up to 1.4 megawatts. It's a part of our corporate philosophy that we are particular about sustainability and about being able to satisfy the wishes of individual clients, and therefore we intend to work out as much as one-third of this consumption in the form of photovoltaic panels on the roof," comments Naďa Kováčiková, VGP's Sales Director for Slovakia, adding: "Our company is committed to becoming carbon neutral by 2025. We aim to produce green energy at our projects, which, in the case of Dirks, is demonstrated by the preparation to instal photovoltaics that will provide up to 500 kW."
Additional specific requirements related to the overall outfitting of the hall, which includes, among other things, conveyor technology, a packaging station, racking, as well as IT installations and related hardware.
Seven halls are gradually being built to make up VGP Park Bratislava I. Together, they will offer more than 250,000 m2 of lettable area. At the same time, an expansion known as VGP Park Bratislava II is also in preparation with 5 more halls, which will provide a total 150,000 m2 to let. When fully completed, VGP Park Bratislava will become one of the largest projects in VGP's portfolio. The park is being developed in a strategic location with ideal transport accessibility near the international airport, where all infrastructure is available.
Technical parameters of VGP Park Bratislava I and II:
Total area: 815,140 m2 Lettable area: 412,000 m2 Currently free area: 237,000 m2 Minimum unit size: 5,000 m2 Number of halls: 12 Halls quality: BREEAM Excellent Certificate or DGNB Gold (since 1 January 2022)