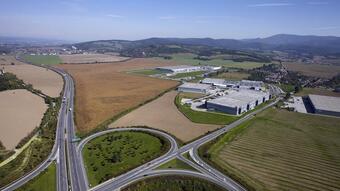 "The total amount of real estate investment in Europe in the second quarter of this year climbed to 70 billion euros," says CBRE, according to which it is an increase of up to 45 percent compared to the same period in 2020.
According to experts, this increase was mainly due to very strong investment activity in the United Kingdom and Germany. In the first half of 2021, the volume of investments in Europe reached the level of 125.6 billion euros.
"Investments in commercial real estate in Slovakia copy the trend from abroad. In the second quarter of 2021, we also recorded a high volume of investments, mainly due to the sale of Aupark, which accounted for almost 81 percent of the total volume of investments during this period, "explains Ľubor Procházka, Sales Director of CBRE Slovakia. "In the first half of the year, we record a volume of 470 million euros, which represents a year-on-year increase of almost 33 percent," he adds.
CBRE reports that in the first half of 2021, Slovakia invested the most in retail commercial real estate (59 percent), followed by offices (20 percent) and logistics real estate (14 percent). EUR 30 million was invested in the combination of retail and office, which represents seven percent of the total volume.
"In terms of capital inflows, Slovak investors invested the most (87 percent) and investors from Australia (13 percent)," the company states. Within Europe, both industrial (office growth of 64 percent) and office real estate (growth of 37 percent) recorded the most investment, while the hotel market also recovered (growth of nine percent). "The volume of investments decreased only in the case of residential real estate," adds CBRE.
Source: // Retrend