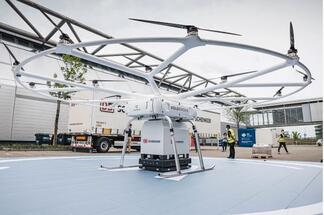 The static verification of the concept was aimed at testing the capacity of the drone transport system. The results of the testing helped to create an operational plan, which is the first of its kind and will serve to create a safe environment during the sharp operation of VoloDrons. The integration of the aircraft into logistics networks around the world will help automate logistics and offer another sustainable solution for freight transport.
Research teams from both companies, in conjunction with a team from the Fraunhofer Institute, simulated the integration of the drone into the logistics network. They researched the process of packing goods, securing cargo and transporting it using automated trucks provided by Gideon Brothers. Furthermore, the technicians tested the loading and transport of the cargo itself. The aim was to determine the procedures for normal operation that will serve the staff in preparing the VoloDron for flight.
From the beginning, the drone has been developed for commercial use in the B2B transport segment. The VoloDrone is a battery-powered heavy-duty drone that can transport 200 kilograms of cargo over a distance of 40 kilometers. The aircraft itself weighs over half a ton, measures 9.15 meters in diameter and is 2.15 meters high. Eighteen electric motors and rotors allow the drone to take off and land vertically.
When fully operational, the VoloDrone can be used for transport to hard-to-reach places such as islands, mountain areas or from a boat to the mainland. It can also be used in urban logistics, which will significantly relieve the air inside metropolises.
"Customers demand fast, sustainable and innovative solutions for their supply chains. If the infrastructure for conventional means of transport is congested or does not exist, freight drones offer the possibility to reconsider logistics plans. The possibilities of use in logistics are unlimited, "says Jochen Thewes, CEO of DB Schenker.
"By creating an operational plan, we are setting a new trend in transportation logistics and we have tangible evidence of the readiness of our freight drones. DB Schenker is a valuable partner and the right intermediary for the commercial operation of VoloDrons, "says Christian Bauer, CCO of Volocopter.
"VoloDrone uncovers new opportunities for the logistics industry and is an important part of DB Schenker's innovation and sustainability plans. Practical solutions and a focus on customer comfort make Volocopter a leader in the urban air transport market, "adds Erik Wirsing, Global Head of Innovation at DB Schenker.
Source: // Logistika ihned