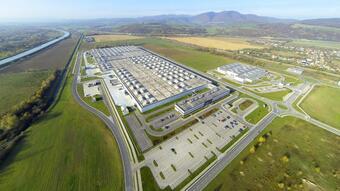 Also, the largest transaction this quarter in the area of ​​26.7 thousand m2 was an extension of the lease of a major manufacturing company in Redside Park in Trenčín. "While new leases normally reflect economic prosperity and the growth of industry or commerce, the renegotiation of existing leases is a manifestation of a sustainable economy and long-term confidence in the local market," said Jakub Volner, head of industrial and logistics real estate at JLL.
The signing of the second-largest transaction was the signing of a contract for the lease of new warehouses of the production company KB Components for 16.7-thous. m2 in CTPark near Žilina. At the beginning of the year, important companies from e-commerce, such as the sought-after Dedoles brand, which leased 15.5 thousand m2, also decided on new warehouses in the logistics park of developer P3 in Senec. "After the initial pandemic slowdown during the first to third quarters of 2020, we followed the recovery of the traditionally strong automotive industry in Slovakia and in general e-commerce benefits the most from this crisis, which during the pandemic period reached sales 2025," evaluates J. Volner.
The supply of industrial real estate is growing
Over the last decade, the supply of industrial and logistics space in Slovakia has more than tripled, from 1.01 mil. m2 at the end of the first quarter of 2011 to the current 3.05 mil. m2 at the end of the first quarter of 2021.
Despite the complications caused by the pandemic, construction in this sector is not lacking. Currently, under construction there are approximately 277 thousand m2, of which 174-thousand m2 already has a pre-contracted tenant. The largest projects under construction are currently developed by VGP, GO ASSET, Licitor, Prologis and CTP, which currently have the largest 32 percent share of the total area under construction within their 5 parks across Slovakia.
Decrease in rent
The suspension of several projects, which took place in the first half of last year, had the effect of increasing the area of ​​unoccupied space in modern logistics properties. This situation naturally resulted in increased pressure on rents. Depending on the location, rents in the industrial and logistics real estate segment in non-premium locations temporarily decreased by approximately 5 to 10 percent. The great competitive struggle of development companies also significantly contributed to this. "Market rents have returned to their original levels due to the improving situation and we continue to expect rents to grow," concluded J. Volner.
In the long run, the coronary crisis does not have a significant impact on the length of leases. Greater emphasis is placed more on diversifying and verifying the creditworthiness of tenants and the related guarantees for the landlord. Special clauses have also begun to be added to leases, which in the future address situations related to lockdown or production restrictions.
Source:// Reality trend