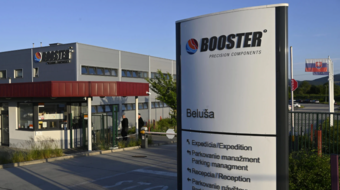 "Completion of the acquisition of the production plant in Beluša, 40 km from Žilina, strengthens our third fund's position on the Slovak market. A tenant with state-of-the-art technology represents a long-term and stable partner for our fund. Since 1986, the Booster group has focused on precision machining, complex assembly and provides top production solutions worldwide not only for automotive. The Center of Excellence of the Group for Variable Turbine Geometry, which specializes in precision machining of special alloys and complex assemblies, will continue in our premises. Welcome to Booster Precision Components in our portfolio of premium tenants. We would also like to appreciate the constructive and openness of the Booster representatives," said Lubor Svoboda, co-founder of the ARETE group.
Roland Grijpma, CEO of Booster Precision Components, adds: "With the ARETE Group we have found a top player in industrial real estate management that allows us to focus on our operational activities. Booster Beluša is on the brink of significant changes and enlarging its footprint inside the automotive industry by focusing on electrical mobility but also in Hydraulics, Medical and other strong markets where high precision machining of special alloys and complex assemblies are key."
"The modern production area with almost 12,000 m2 of leasable area is fully in line with our diversified real estate portfolio strategy. Manufacturing companies with a long-term lease represent a stabilizing element. We are planning the gradual introduction of renewable energy sources and BREEAM certification will be a matter of course. We already consider these activities to be essential for achieving long-term sustainability and meeting environmental standards," concludes Robert Ides, the second co-founder of the ARETE Group.