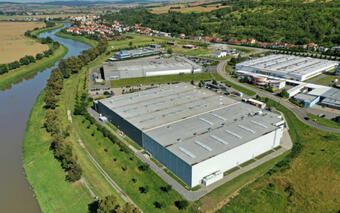 The first CBRE survey, entitled "European Logistics Occupier Survey", conducted in collaboration with Analytiqa, analyzed responses from more than 100 of the largest tenants of logistics real estate in Europe with a total area of ​​more than 40 million m2. The survey was attended by respondents from various areas such as industry, e-commerce, retail, supermarkets and 3PL (logistics service providers).
"A large part of these companies have their subsidiaries or branches in Slovakia, which is why the results of this survey are very relevant for our country. However, due to the size of our market, we record some trends with a slight delay. However, the Slovak market experienced a rapid increase in online trade already during 2020," explains Michal Cerulík, head of the industrial and logistics real estate department at CBRE Slovensko.
The survey showed that the corona crisis changes long-term plans even for tenants of these types of real estate. As many as 47% of tenants of logistics real estate see it as the most necessary to have enough flexible storage space available in the long run. A total of 36% of respondents also said in the survey that they want to speed up their plans to adapt their logistics facilities to cope with increased demand due to the rapid growth of online shopping.
The findings pointing out the preferences of tenants when choosing a location were also interesting. It turned out that 64% of online retailers, and a total of 44% of all respondents among tenants of logistics real estate, are willing to explore even more unconventional locations located outside the main logistics hubs in Western Europe.
The results of the survey also show that urban logistics is also becoming increasingly important for tenants, with 64% of online retailers indicating that their expansion into urban locations is becoming a high priority for them. The reason for these decisions is the fact that one of the most important factors for the customer in this area is the delivery time, while urban locations are more efficient in this area and can shorten the length of the supply chain.
According to the survey, up to 50% of manufacturing companies as well as 50% of respondents from the food chain also consider this. This result suggests that urban logistics should further confirm its validity in the coming years.
The survey also took a closer look at how Brexit affected this area of ​​real estate. The findings point to the fact that 50% of online tenants in Europe think that they will need additional logistics space in the UK as a result of Brexit. On the contrary, a total of 40% of respondents said that they would need additional premises within the EU.
"The current situation in which the whole world fits has shifted more attention to the field of logistics and reminded people of the importance of global supply chains. These trends have accelerated demand from logistics tenants, with more emphasis also being placed on areas such as labor costs, accessibility, urban logistics, rental costs, and flexibility. And it is these trends that also influence investors' decisions. Therefore, the expectation that investor demand for this type of real estate will be high over the coming year," concludes Tasos Vezyridis, Head of EMEA Research at CBRE.
Source: // Logistics systems