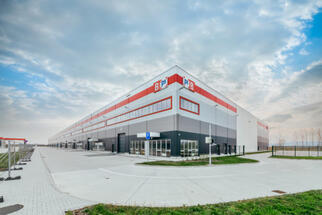 P3's portfolio grew by more than 380 thousand in the monitored period. m2 to a total of 7.9 million. m2 of gross leasable area, thanks to acquisitions and completed projects, while the occupancy of comparable premises remained at a very high level of 98%. Approximately 60% of the underlying assets are located in Western Europe and 40% in Central and Eastern Europe, spread across 11 countries. After that period, P3 entered the UK market, where it currently manages two logistics assets.
As a result of the expanded portfolio, net operating income increased by 21% to 205 million. euro On a comparable basis, net operating income increased 7% due to indexation of active leases and strong re-letting margins. New effective rents were on average 24% higher than previous leases for the same premises. EBITDA margin continued to improve to 84.5% due to portfolio growth, strong re-letting margin and focus on efficient processes.
Although increased return requirements continue to affect real estate valuations, in the logistics sector this impact was largely offset by a significant increase in rents. As a result, P3 saw a relatively small decline in valuation on a comparable basis in the first half of the year, by 2.3%. Including net investments, the gross leasable area of P3 during the first half of 2023 remained stable at the level of 8.3 billion. euro
In the first half of 2023, two profitable acquisitions were concluded, Campus 39 in Poland and Atlantic One in Germany, which expanded the portfolio by approximately 216,000 m² of space. In addition, approximately 168,000 m² of new projects were completed in the first half of the year, and construction of an additional approximately 213,000 m² of gross leasable area (GLA) began.
"It is known that the global economic environment in 2023 is challenging, but the logistics real estate market is still loaded with inertial trends of the previous period and demand remains strong. Based on our strong operating and financial results, we believe that P3 is well positioned to take advantage of the opportunities that the market presents. Thanks to GIC's long-term strategic ownership, combined with our strong proprietary operating platform, we have the capabilities and capital to advance our path to successful profitable growth," said Frank Pörschke, CEO of P3.
P3 also recorded several important financial milestones. In January, Standard & Poor's agency re-granted the company a BBB credit rating with a stable outlook. At the end of June, the financial reserves of P3 remained stable, while the revolving loan in the amount of 750 mil. the euro was not fully exhausted. P3 has also demonstrated its ability to raise capital, reaching over 1.5 billion in debt to date. EUR in 2023, with additional capital provided by its shareholder to support profitable growth while securing a strong balance sheet. P3's loan-to-value ratio (LTV) remains stable at 46.3%.
"In the first half of 2023, the momentum of P3's strong financial results continued, indicating that our long-term value approach is sound. Our financial strategy, designed to achieve maximum operational flexibility while maintaining reliable credit ratios, is working. By publishing our first ESG report in March, we also continued to uphold our environmental, social and governance commitment. The report outlines the significant progress we have made in meeting our ESG targets since 2022," added Thilo Kusch, CFO of P3.