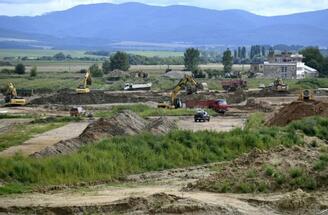 At the same time, other future investors and subcontractors are taken into account. Therefore, it is necessary to equip the territory with sufficient sources of electricity, gasification, drinking water, as well as connection to the road and railway network through an integrated transport system.
"Traffic connection of strategic park Valalika to road I/17, expressway R2-R4, roads III. class, to the Haniska railway station and the newly built Valalika Centrum integrated passenger transport terminal will require approximately 175 million euros in two phases," the state company said.
In total, according to VIP, almost 16 kilometers of new roads and 10.6 km of cycle paths will be built. Road sections 8.5 km long will also be reconstructed, 14 roundabouts, one junction, two road bridges, one railway bridge and four bicycle bridges will be built.
"The strategic industrial park will also be connected to the existing railway line no. 169 Košice – Hidasnémeti. For more than 67 million euros, tracks with a length of 10,160 meters and a 200-meter platform for passengers will be built," announced VIP. In close cooperation with the SR Railways (ŽSR), the Ministry of Transport (MD) of the SR and the Košice Self-governing Region (KSK), rail and bus transport are to become the main means of transport. The ecological goal is to achieve a 50 percent share of public transport.
The construction of a high-pressure and medium-pressure gas pipeline with a total length of 4125 meters and a new regulating station should ensure sufficient gas. Estimated costs associated with gasification are more than 2.3 million euros.
The required increase in electricity capacity, according to VIP, will be provided by the construction of a new 125-megawatt (MW) power station and new high-voltage lines for more than 2.3 million euros. Their total length will be almost 23 km.
In the coming years, according to VIP, almost 7,200 employees will find work in the industrial park near Košice. The gradual start-up of production at the automobile plant is planned until 2026.