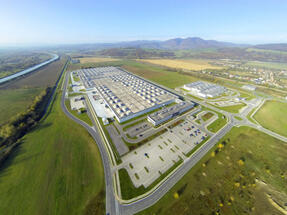 Rimavská Sobota is the district with the highest unemployment rate in the whole of Slovakia, which is around 20%. The construction of the park will significantly help this region in terms of economic and social development, because in addition to hundreds of direct ones, thousands of indirect new jobs can also be created. "I believe that it will be completed by 2023 and then we will be able to offer it to investors," said Richard Sulík.
The Minister of Economy also drew attention to the lack of prepared industrial areas in Slovakia, which have also built the necessary infrastructure. "The absence of such parks means a major competitive disadvantage for Slovakia compared to the countries of Central and Eastern Europe, with which we most often compete in obtaining strategic investments," explained Richard Sulík.
Therefore, in addition to the industrial park in Rimavská Sobota, the Ministry of Economy is also interested in building a strategic industrial park, which will be located in eastern Slovakia. MH Invest II is in charge of finding a suitable location. "We definitely do not want to allow large investments to slip through our fingers, as was the case with BMW. That is why we continue to have the ambition to build a strategic park in the east. I believe that we will soon be able to present to the public the location in which it should grow," the minister concluded.
The Ministry of Economy submitted a proposal for the implementation of an industrial park in Rimavská Sobota at the end of last year to an inter-ministerial comment procedure (MPK), which is currently being evaluated. The government will then discuss this proposal.
Source:// Systémy logistiky