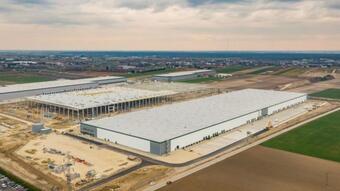 The main reason for this decline is not only the deferred decisions of tenants, but also the increased share of transactions within Class B warehouses. Almost half (48%) of these spaces are located within a distance of 30 km from the capital Bratislava.
The main driving force of rental activity in the 3rd quarter of 2020 was mainly warehouse space for retail, with a share of 38% of total activity. The second largest category of tenants, in terms of leased space in the 3rd quarter of this year, were providers of comprehensive logistics services (3PL providers). Almost 85% of transactions, out of the total volume of leasing activity of 75,000 m2, were carried out in Bratislava and its vicinity within 30 km. The second most dominant locality was Košice.
Part of the industrial and logistics space is currently under construction, despite the corona crisis. At present, the implementation of 3 projects with a total leasable area of ​​143,560 m2 is underway. The level of pre-leases is 50 percent.
Due to the delivery of speculative projects to the market, the total vacancy rate of industrial and logistics real estate in Slovakia at the end of the 3rd quarter of 2020 increased to the level of 9.05%. The vacancy rate of premises located in Bratislava and the surrounding area up to 30 km increased to 7.57%. The required yield within the industrial and logistics premises remains stable despite the current situation, at the level of 6.25%.
"The industrial and logistics real estate sector across Europe and the US is experiencing a relatively strong boom at this time of uncertainty. The growth of this sector is mainly influenced by demand from tenants, developers interest in buying land and construction of new premises for rent, as well as investors interest in buying projects generating stable cash flow," concludes Michal Cerulík, Director of Industrial and Logistics Real Estate Leasing, CBRE Slovakia.
Source:// Systémy logistiky