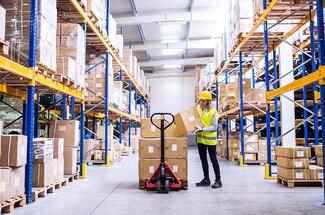 Last year, the company opened the first part of a new distribution center. It was a warehouse of durable food, the so-called dry warehouse, with an area of ​​7119 square meters. Almost a year later, the company expanded it with a second part, a warehouse with fresh food, within which a new warehouse area with an area of ​​4559 square meters will be added. The area is complemented by office space with an area of ​​1073 square meters. The total space thus represents 12,751 square meters. The individual work operations will be provided by 115 employees in a modern environment. Compared to the previous warehouse in Rača, the storage capacity has increased by 50%.
From the distribution center, the company supplies not only all stores, but also wholesale customers, of which there are already more than 200. "I am pleased that we have goods under one roof. Thanks to this, we can streamline distribution. In the new warehouses, we are ready to handle not only organic but also acquisition growth, "said Čajka. Given Terna's goal of being a nationwide chain, according to the company's management, it is only a matter of time before a similar logistics platform will grow somewhere in central and eastern Slovakia. Until then, the complete supply of Terno and Kraj stores with durable but also fresh food will be provided only from Ivanka pri Dunaji.
Terno real estate currently operates 114 Terno stores. In March 2018, it introduced the first store under the name Kraj, it currently operates 27 of them and plans further expansion.